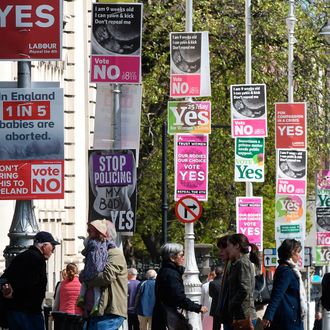 Posters in Dublin urging passerby to either vote Yes or No.
Photo: Artur Widak/AFP/Getty Images
While we face increasing threats to our reproductive rights in the States, pregnant women in Ireland still can't obtain a legal abortion the vast majority of the time. The practice is criminalized even in cases of rape, incest, and fatal fetal abnormalities — and punishable by up to 14 years in prison for any person undergoing or administering an illegal procedure. The United Nations has recently denounced the country's abortion laws as "cruel and inhumane."
At long last, this may finally change. When Prime Minister Leo Varadkar took office in 2017, he announced that there would be a referendum to determine whether to lift Ireland's long-standing abortion ban. On Friday, voters will take to the polls to vote "yes" to repeal the law, or "no" to keep it as is.
While Ireland awaits a decision in what could be a crucial turning point for reproductive freedom, here's what to know about this fight — and what may come next.
The current law has been in place for 35 years.
Abortion has technically been illegal in Ireland since 1861, as part of the larger Offences Against the Person Act. But in 1983, conservative parties — in a move strongly supported by the Catholic Church — worked to get an abortion ban enshrined in their constitution. The Eighth Amendment of the Constitution read as follows when it was first passed:
The State acknowledges the right to life of the unborn and, with due regard to the equal right to life of the mother, guarantees in its laws to respect, and, as far as practicable, by its laws to defend and vindicate that right. 
Essentially, this made the life of the woman and her fetus equal in the eyes of the law.
Abortion restrictions have loosened very slightly over time.
In 1992, two referendums passed to add language to the amendment to clarify that the law could not prevent women from traveling out of the country to get abortions. It also became explicitly legal to obtain and provide information about receiving an abortion abroad. In 2013, Ireland passed an act allowing a woman to get a legal abortion if her life was deemed at risk — including by suicide.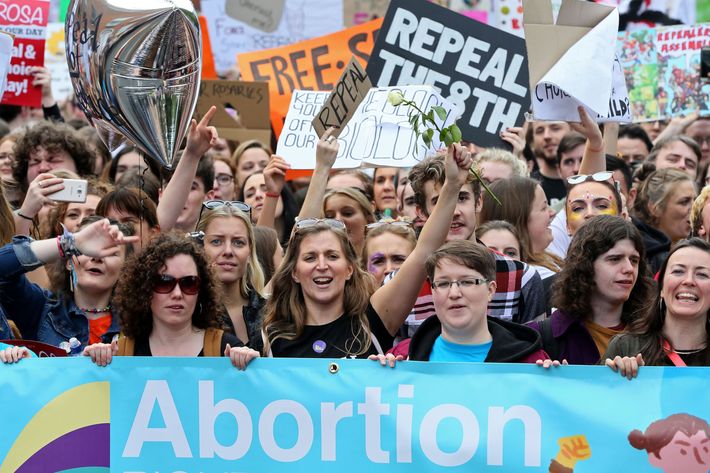 Even so, women have found ways to get abortions in Ireland – though it's difficult, expensive, and they're not always safe.
According to the Ireland Family Planning Association, data from the U.K. Department of Health shows that 168,703 Irish women are recorded as having traveled to the U.K. alone to obtain an abortion between the years of 1980–2016. As Siobhán Silke of IFPA told the Cut, even more women are likely taking abortion pills they ordered online, which can be highly risky. "Girls and women are taking the pills at home alone and not telling anybody. They're taking them without medical supervision and abortion pills are generally safe, but they should be taken under medical supervision," she explained. "Not only are women and girls taking them at home alone and not telling anybody, they're not going for check-ups afterwards."
Several high-profile, horrific cases have highlighted the desperate need for reformed reproductive rights.
There are several instances that have ignited public outcry over the years, including these two prominent ones. First, the X Case in 1992, in which a 14-year-old girl was raped by a family friend. Her family was planning to take her to the U.K. for an abortion and asked authorities if they could test the fetal remains so as to have evidence against her rapist. Instead, the authorities blocked her from leaving Ireland. The Supreme Court eventually ruled in her favor, as evidence showed that she was suicidal, but she ended up miscarrying before the procedure was performed.
There was also the tragic 2012 story of Indian dentist Savita Halappanavar, who died after a highly painful septic miscarriage. When it became clear that pregnancy loss was inevitable, she requested a termination — but was refused on the grounds that a fetal heartbeat could still be detected. (A midwife famously told her "Ireland is a Catholic Country" by way of explanation.) After seven days, Halappanavar died of cardiac arrest as a result of the septic infection. She was 31.
Friday's referendum would not immediately legalize abortion.
What a repeal would do is pave the way for new abortion legislation. A proposed bill would allow abortions without restriction for the first 12 weeks of pregnancy. Women facing serious health problems would have until 24 weeks to terminate a pregnancy; after that time frame, there would need to be a risk to her health or of fatal fetal abnormalities. Medical practitioners would still have the option to conscientiously object.
This vote is so important, people are flying home for it.
There have been numerous pro- and anti-choice marches and rallies, as well as strong campaigning all around in the lead-up to the vote. But perhaps most telling of this moment's significance is that Irish citizens living elsewhere are planning to fly home just to vote — for either side.
And polls show the "yeses" leading.
The repeal holds a lead in most polls — albeit a narrow one. But according to Siobhán Silke, cultural attitudes toward abortion have changed widely in Ireland over time. "The word abortion can be spoken out loud now, in a way it really wasn't in the past," Silke said. "We are just becoming more understanding and compassionate about other people's real lives and other people's real lived experiences."