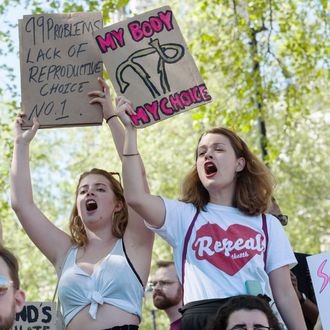 Pro-choice demonstrators in Ireland.
Photo: Wiktor Szymanowicz/Barcroft Media via Getty Images
An initial exit poll conducted for The Irish Times has projected that the country overwhelming voted to repeal their ultra-restrictive abortion law.
The Eighth Amendment, which criminalizes abortion in all cases except for a threat to the life of the mother, was added to Ireland's constitution in 1983. It's long been controversial, and has even been denounced as "inhumane" by the United Nations.
Friday's referendum gave citizens the option to vote "yes" to repeal the law and pave the way for new legislation, or "no" to keep it as is. The exit poll has the current margin of victory at 68 percent for the yeses and 32 percent in favor of the nos.
The official result is expected on Saturday afternoon.