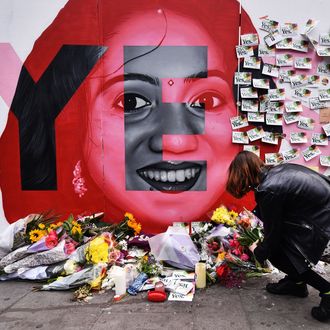 Savita Halappanavar.
Photo: Charles McQuillan/Getty Images
In 2012, 31-year-old dentist Savita Halappanavar died from a septic miscarriage after being denied an abortion in Ireland — a tragic, cruel incident that helped spur the campaign to repeal the country's ultra-restrictive stance on abortion, codified in the Eighth Amendment. On Friday, after Irish citizens flew home to vote in the historic referendum, the people successfully repealed the amendment, paving the way for new abortion legislation. While the parents of Halappanavar have not described their vision for the new laws, they have vocalized "one last request" regarding the legislation: that it be named "Savita's law."
Halappanavar's father, Andanappa Yalagi, told the Irish Times on Saturday that he and his wife are "really, really happy," and are grateful to all who voted "Yes" in the referendum.
"I want to thank you so much," he said. "I want to say thank you to our brothers and sisters in Ireland for voting yes. It is very important. There has been really a lot, too much struggle for the Irish ladies."
He continued: "We have one last request, that the new law, that it is called 'Savita's law.' It should be named for her."
Following Yalagi's request, the co-chairwoman of pro-repeal umbrella group Together for Yes said that she supported the call to name the new legislation after Halappanavar. Before the historic vote on May 25, co-chair Orla O'Connor tweeted, "My Yes is for Savita's parents, so that no other parents have to go through what they did, because of the 8th Amendment."
At a news conference in Dublin, O'Connor also called on the government to "start the process now, next week," of enacting new abortion legislation.
"The people have spoken, and they've spoken very loudly," she said.