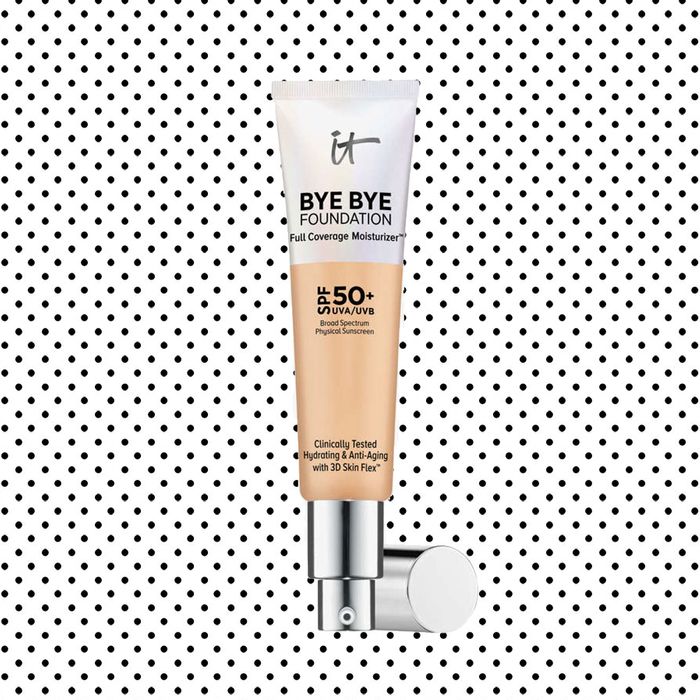 Of all the beauty terms I find to be most laughable, no-makeup-makeup tops the list. It's not the aesthetic that I find funny but that it takes a considerable amount of skill and many products to make it look like I'm just so effortlessly and naturally beautiful.
Maybe the inherent contradiction of the phrase is caused by makeup getting too good. It's getting easier all the time to find lipsticks that look like "your lips but better," blushes that make it look like your cheeks have a pretty, healthily derived flush, and natural-looking mascara — products that make it look like you look that way even when you're watching Netflix and brushing granola crumbs off your bathrobe. For makeup that looks like your skin but better, my current favorite is It Cosmetics' newest Bye Bye Foundation.
If you're confused as to how the brand's much-loved, existing CC cream (I've been through three tubes) differs from Bye Bye, you're not alone. There are various blog posts about this, and the general answer is that there's a slight difference in ingredients that make Bye Bye last longer. In fact, the first 31 ingredients are identical, but Bye Bye also contains hyaluronic acid, two fermented ingredients, which are purportedly good for your skin, and niacinamide (vitamin B3, a general good-for-you skin-care ingredient). I found that Bye Bye gave more coverage, gliding over dark spots and just-woke-up ruddy face. It also settled less over the course of the day, lasted longer, and had a less dewy, but matte finish.
As with the CC cream, it unfortunately comes in a limited range, but at twelve shades has almost double the number as CC. You could argue that the coverage looks almost too good, that my skin looks a little too perfect with it on, that no one's skin looks that good naturally. But I'll take it.
If you buy something through our links, New York may earn an affiliate commission.