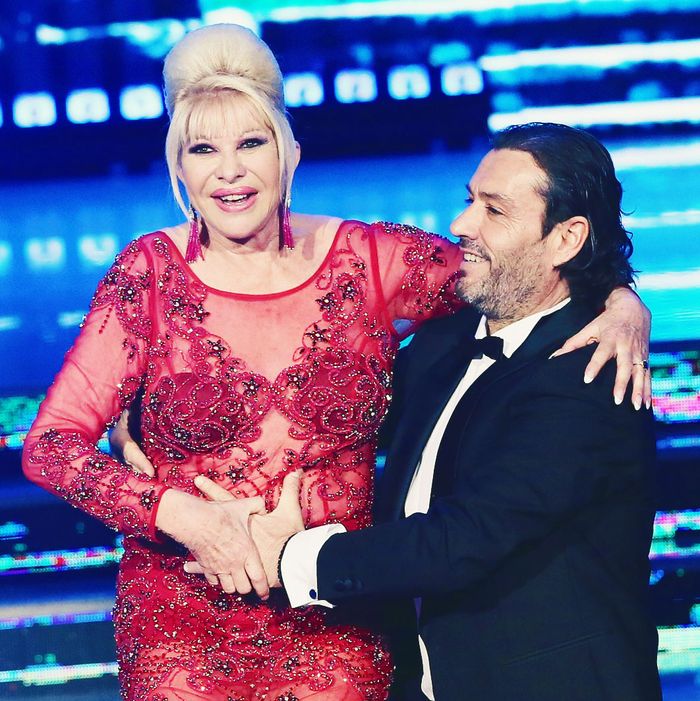 Ivana Trump and Rossano Rubicondi.
Photo: Elisabetta A. Villa/Getty Images
Back in 2016, President Donald Trump's second ex-wife, Marla Maples, was a contestant in the Italian version of Dancing With the Stars, entitled Ballando con le Stelle. The lifestyle guru's appearance on the show prompted Trump's first ex-wife, Ivana, to declare, "No class!" and that she "wouldn't go on that show, dancing in those tiny dresses with the boobs and butt hanging out."
But wouldn't you know it, on Saturday night, Ivana became the latest Trump ex-wife to appear on Ballando con le Stelle.
According to "Page Six," renowned street-meat lover Ivana, 69, was a guest competitor on the show this weekend with her other ex-husband Rossano Rubicondi, 46. Clad in a "partially see-through red dress," Ivana performed with her dance partner Samuel Peron, and was apparently met with "thunderous applause" when she took the stage.
Peron lifted Ivana up during one part of the performance, before taking her hand and passing her over to Rubicondi, with whom she danced for a bit before he got down on one knee to offer her a seat.
Ivana and Rubicondi weren't the only unexpected celebs to appear on the program that night — Deadpool 2 actors Ryan Reynolds and Josh Brolin also danced together to drum up publicity for their new film.
We can only assume former White House director of communications Sean Spicer was watching longingly at home, imagining what his life could have been like if he had agreed to appear on the American Dancing With the Stars after all.