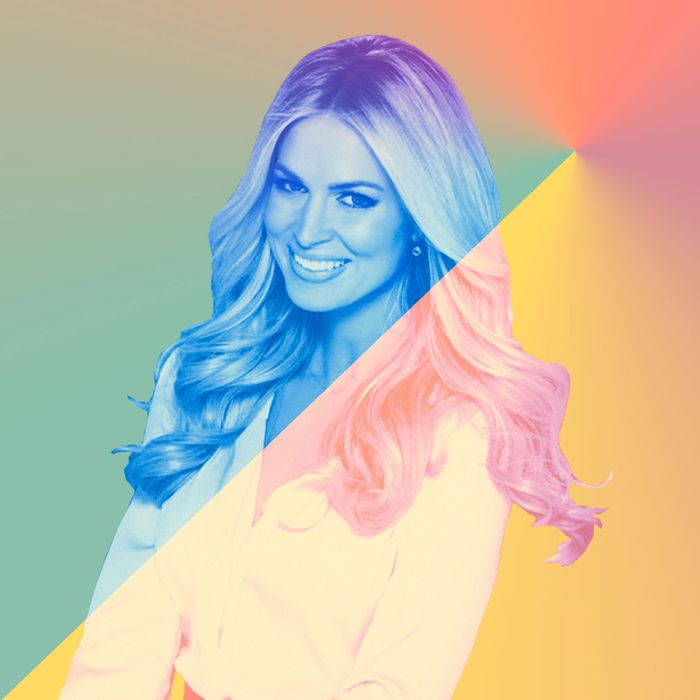 Photo-Illustration: Stevie Remsberg
When Jamie O'Banion was 7 years old, she asked her parents if she could test for Hockaday, a STEM school in Dallas. "I've always loved the logic of things," she explains, "and my father always wanted to understand the why. That's also how my mind works." She tagged along with her father, Dr. Terry James, a cosmetic chemist, as he scoured the globe in search of the next miracle ingredient.
"I could tell you that women in Italy were worried about pore size and volume, while women in Germany tend to focus first on fine lines and wrinkles, and women in Asia are concerned with hyperpigmentation and lightening," she remembers. "It was an amazing education and I just drank it all in."
After college, O'Banion joined her father in the lab, and also worked as a model. "It was great to work with top photographers and makeup artists," she recalls, "but while everyone else was chatting around the catering table you would typically find me huddled over my computer emailing with the lab between shots." O'Banion also created formulations for big beauty companies. She credits watching how makeup artists used certain products for influencing how and what she mixed into serums and moisturizers
In 2011, she launched Beautybioscience, a collection of skin-care products that debuted on the Home Shopping Network. They sold out the same day. Five years later, but with 15 years of research and design behind it, she launched GloPRO, an at-home microneedling device. The roller punctures your face with tiny needles, which experts say stimulates collagen production. It racked up $4 million in its first 24 hours. This year, GloPRO is on track to hit the $100 million mark, but O'Banion keeps her sights on spreading the good word of skin-care education.
The Cut spoke with O'Banion about her sweet tooth, her Tom Ford shoe collection, and the bra that saved both her and Sofía Vergara.
Favorite smell? Lemongrass and gardenia.
Least favorite smell? Rose. I don't love a heavily fragranced rose scent.
Sweet or salty eater? Sweet. Total extremist. I don't think I've ever gone a day without eating something sweet.
What celeb would be your friend if only you two met? Kate Middleton. She seems engaged as a mother, poised, relatable. I think I would like her real persona.
Preferred fancy lingerie and daily underwear? Fancy: La Perla; Sexy: Agent Provocateur; Daily: Chantelle. My favorite stylist in L.A. introduced me to Chantelle's #2121 bra that she also put on Sofía Vergara and now it's my favorite for minimizing a fuller chest. No underwire, but lots of support and nice shape.
What fashion look do you struggle with achieving? "I woke up in this." I don't do the wrinkled, rumpled look well.
Work icon? I very much align with Sara Blakely's philosophy on failure and grit.
What item stresses you out if you're running low on it? YSL Beaute Eyebrow Pencil No. 3. It's everything for a blonde. All women need to understand the power of the brow. I'd go out with no mascara on, but not without my brow pencil.
What scent do you wear? Frederic Malle Carnal Flower.
Purse or daily carry-all? My white Goyard bag is perfect for carrying my files, product samples, and computer. I also bounce between my favorite Céline mini luggage or a 32 cm Birkin. It's perfectly wide enough for my laptop (in rose gold, of course…), headphones, three file folders, and our lip-gloss bag.
Shoe of choice? Tom Ford Pointed Toe Pump. I have it in multiple colors.
Jeans of choice? Frame denim.
What phrase or word are you known for saying? "What do we need to do to make it happen?"
What drives you crazy? Entitlement. Nothing bothers me more than someone thinking a task is beneath them.
What is always in your purse? A hair tie and a small bag for jewelry. My team can always tell things are about to get serious when my jewelry comes off and my hair goes up.
What is always in your fridge? San Pellegrino, fresh limes, peanut butter/almond bars, fresh fruit, and hummus. At the office, my content manager makes a skin-care smoothie for the floor every morning and we keep extra in the fridge to drink throughout the day.
What do you think Pantone's color of 2018 should have been? 7605C! That's the color of our blush. It was inspired by a Tom Ford shoe my husband bought for me years ago. It's like a soft nudie blush. 7605 is also a call to arms at meetings. Any time someone goes off track, we all yell "7605!"
What are you working on mastering? Patience. I struggle when someone isn't tracking as quickly as I am.
Weakness? Sugar, saying no to my youngest, and perfectionism. I wish I didn't notice the crooked picture, slightly imperfect kerning, or grammatical error.
Favorite Instagram? @Kayla_Itsines. I don't work out, but when I see those ab pictures I feel like I've just done something!
What or who makes you laugh? My sisters. Our thread is hilarious. It could be the most incredible podcast. Super raw and real.
Favorite meal and where? Gaggan in Bangkok.
Comfort food? Sugar cookies from Bird Bakery.
Comfort music? I don't know if it's comfort but on flights I put my headphones on and listen to the Odesza playlist on Pandora, then I pound out serious output.
Most recently watched TV binge? My friend Tan France's new show Queer Eye on Netflix, and Life in Pieces.
What person, place, or thing has most recently surprised you? My husband recently surprised me and met me in Europe for a little weekend getaway. Much needed.
Dream car? I love a beautiful Aston Martin. The sound of that engine is beautiful — and I'm not a car person.
What product in your domain is misunderstood and should be a best seller? The Beholder. It actually is a top selling product, but I think a lot of people don't realize you can use it on the eyelid for hooding as well.
What do you foresee as the top beauty trends in 2018? Microneedling will continue to become the No. 1 treatment category, just as microdermabrasion began its enormous velocity two decades ago. Masking will continue to trend, as will jade rolling.
If you won the Power Ball tomorrow, what are the first five things you would do? (after, of course, donating the majority of it to your top charities…) Outside of charitable donations, I don't think my life would change dramatically. You wake up the next morning, your friends are the same great friends, you have the same wonderful family, and still put your pants on one leg at a time. There is no dollar amount equal to the feeling of building a loved brand.