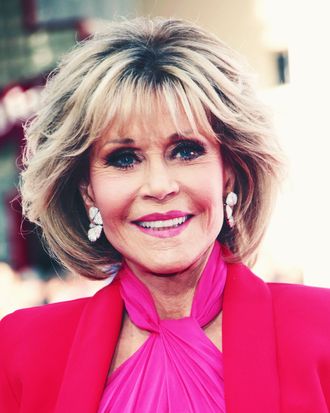 Jane Fonda.
Photo: GP/Star Max/GC Images
While Jane Fonda thinks it's "very important" for older women to have sexy time, she, personally, never wants to do it again.
At a Los Angeles premiere for her new lusty rom-com Book Club, which is about four horny moms who read 50 Shades of Grey in their book club and find their lives forever changed, the 80-year-old actress started off a conversation with Extra by describing the crux of the film.
"It's about very important things, friendship and sex, and that it's okay for older women to have both," she said.
She just doesn't want to be one of those older women who, one might say, have it all. While Fonda has been married three times and genuinely loves to bone, she hasn't been in a relationship since ending things in 2017 with music producer Richard Perry, and is no longer interested in doin' it.
"I'm not dating anymore, but I did up until a couple of years ago," Fonda said. "I'm 80. I've closed up shop down there!"
Congratulations to Fonda on her retirement from sex!