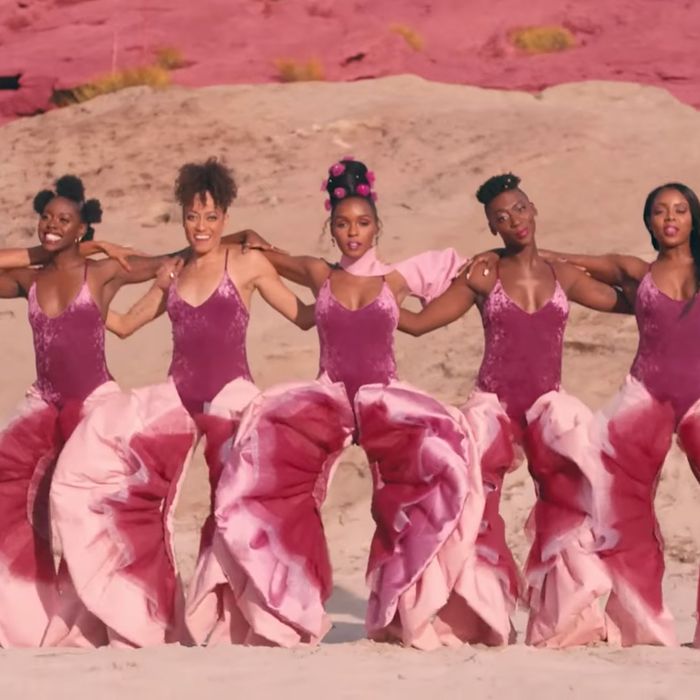 Janelle Monáe in her music video for "Pynk."
After Janelle Monáe dropped the sexual music video for "Pynk" on April 10, her fans had a few questions: Those pants are supposed to look like vaginas, right? And … we love them, so can we have them, please?
To answer the first question: yes — those ruffly pants would make Georgia O'Keeffe proud. And to the second question: actually, maybe!
In a new interview with People, when asked whether she had future plans to sell the Duran Lantink pants, Monáe admitted, "I'm trying." While she apparently does not yet have a mass production timeline, she "may be working on that."
In the same interview, Monáe also used the pants to vocalize that she's not a sex essentialist, saying, "There are some women in the video that do not have on the pants, because I don't believe that all women need to possess a vagina to be a woman."
She continued: "I have one I'm proud of it, but there's a lot of policing and controlling that people are trying to have over our vaginas and when you think about female genital mutilation, when you think about all these women's issues, I wanted to make sure we were discussing these issues but we were also celebrating each other."
So not only are the pants good, but so are the politics behind them! No wonder Tessa Thompson (maybe? probably?) likes her as more than just a friend.