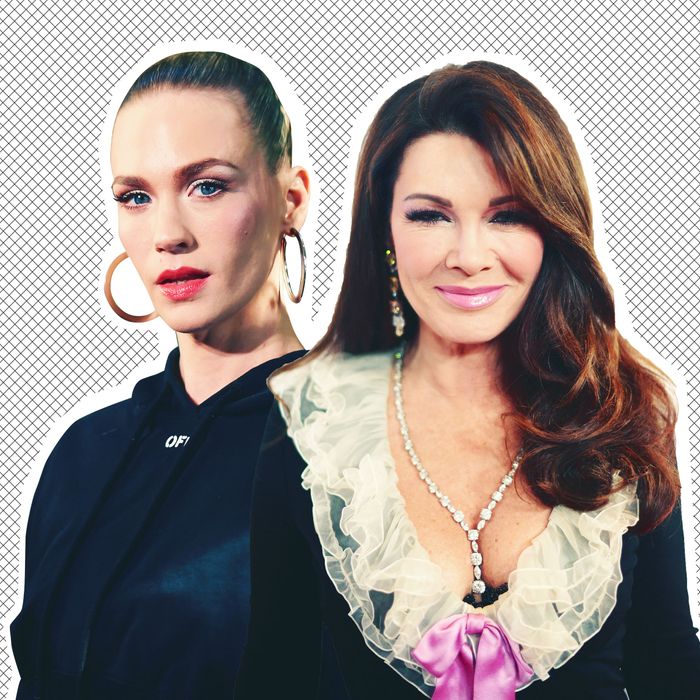 January Jones and Lisa Vanderpump.
Photo: Getty Images
As you know, the Vanderpump Rules theme ("Raise Your Glass" by Dena Deadly) goes like this: "You know that it's our time, these are the best days of our lives. So raise your glasses high, this one's for you tonight." Yes, yes, we all hear it screeching in our minds. Shockingly, the series has lasted six seasons without revealing that the pronouns in those famed lyrics exclude one poor soul — one woman damned to walk the earth among those more fortunate, those able to raise their glasses high, those having the best days of their lives, those for whom this one is tonight. That unfortunate soul?
JANUARY JONES!
Incredible. According to Yahoo Lifestyle, Ms. January Jones, a Vanderpump Rules fan, wanted nothing more than to have her 40th birthday party at Lisa Vanderpump's West Hollywood restaurant Pump. She called to set up this birthday party, and guess what she said happened?
 "No one called me back."
Oh my god. "What about her publicist?" you're thinking. "And her best friend? Couldn't they have called to make a reservation?" Uhhh, you think January Jones didn't try that?!
"My publicist called. My best friend called. We called and called and called and called," she continues. "It was over the holidays, but still. No one responded."
"It's too bad she couldn't ask Andy Cohen and get, like, I don't know, the general manager's number or something," you're thinking. Man, you're making a fool of yourself right now! She did!
She even texted Cohen, king of the Real Housewives, and got the general manager's number, but "the guy wouldn't call me back."
What a mystery, and what extremely poor SUR-vice, ha-ha. And can you believe January Jones's birthday is in January? It's January 5!