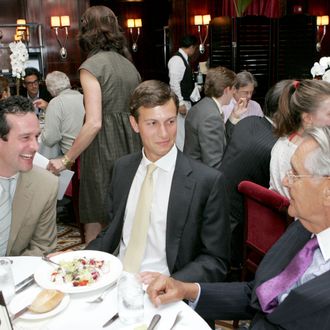 Jared Kushner, center.
Photo: Jimi Celeste/Patrick McMullan via Getty Image
Tucked in the middle of a Boston Globe report about how much Jared Kushner's former Harvard classmates despise him is one fascinating revelation about the presidential adviser: that he, the White House's corrupt little boy, is a total foodie.
In a paragraph about the class of 2003 graduate's extracurricular activities, reporter Matt Viser nonchalantly divulged that Kushner was the "cooking editor" of Harvard's Current Magazine.
During his years on the Harvard campus — and living in Kirkland House — Jared Kushner fit in on the leafy campus. He had an active role in the Harvard Chabad, a campus Jewish group; played junior varsity squash; and was a member of an exclusive social club called The Fly. His yearbook entry listed him as the cooking editor of Current Magazine, a news and campus life publication.
Unfortunately, neither Viser nor myself have successfully tracked down any of Kushner's clips from his time as a "cooking editor," and no one seems to know what exactly this position entailed, but perhaps he was editing personal essays about cupcakes.
He also apparently dabbled in the culinary arts, and once made an "amazing chicken tetrazzini" in 2001.
Though he may not have pursued a career in the food world, once a foodie, always a foodie. He likes Carvel ice cream cake — a classic.
And salads, because vegetables are essential to children's growth and development.
He's not too proud to wear the diner's little hat while he eats.
Jared, don't eat so quickly!!!
He appreciates a New Jersey diner (and clearly isn't afraid of heartburn).
My face when I'm ready to eat: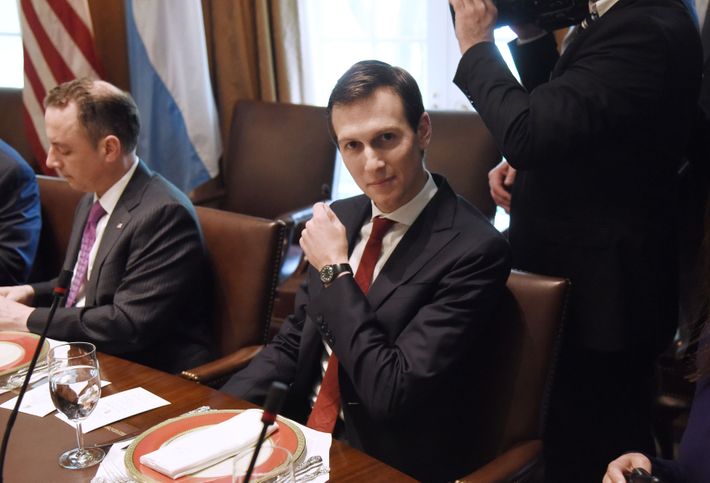 If you have any clips from Jared's time at Current Magazine, please reach me at amanda.arnold@nymag.com.