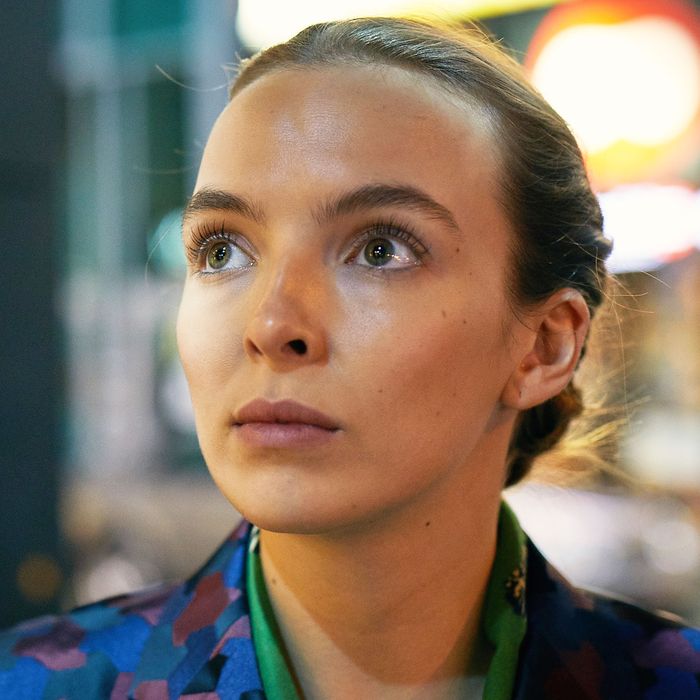 Jodie Comer in
Killing Eve
.
Photo: BBC America/Sid Gentle Films Ltd 2018
In Killing Eve, Jodie Comer plays your average globe-trotting, extremely fashionable sociopathic assassin. Her character, Villanelle, serves as a foil to MI5 officer Eve Polastri, played brilliantly by Sandra Oh. Toward the beginning of season one, Polastri described Villanelle to a sketch artist. "Her skin is smooth and bright," Polastri explained. It was an understatement.
Jodie Comer's skin is magnificent. It's not regular smooth, it's glass smooth. Intrigued by this serial killer's glorious skin, the Cut tracked down Comer's skin-health consultant in London. Jasmina Vico worked with Comer during season one of Killing Eve, and is gearing up for season two. Known for her radiance-inducing facials, Vico talked with the Cut about her favorite glow-worthy products and why your skin needs a "detox" twice a week.
What's your approach to skin care?
I combine holistic and high-tech treatments. I'm originally from Croatia, and I was trained by a dermatologist there in my early 20s. When I arrived to the U.K., people were doing spa treatments, but there weren't any sort of in-between medical treatment places [skin clinics]. I got really excited once the lasers and other high-tech treatments gained popularity. That's what I use in my treatments: All my treatments are bespoke, and that's my philosophy in treating skin. There are no quick fixes. If you want to have good, healthy skin, then you need to be religious about it.
You're known for the VicoGlow Treatment, and it's the treatment Jodie Comer likes as well. Can you walk me through the facial?
VicoGlow was created because people always ask me about my skin and how I make it glow. The VicoGlow treatment is more about getting to know the client, so you can understand their lifestyle and their skin. I first have a really thorough consultation about their lifestyle to find out what's going on. Then I get into the treatment.
The treatment includes everything from lasers, to LED lights, to peels. You can use lasers inside of the mouth that will plump the nasolabial fold. It's a micro-injury that stimulates collagen production. The treatment might even include microneedling to help with hyperpigmentation. No treatment is exactly the same for anyone because your genetics and lifestyle influence your skin in different ways.
What's your best advice for someone trying to achieve a glowy, radiant complexion?
Stay away from the sun; the sun kills collagen, so that's going to damage your skin. Also, wear SPF. Use antioxidants and take omega-3, -9, magnesium, glutathione, and probiotic supplements. Your diet is important, too.
How so?
My approach is inside-out. Your gut is your second brain. If your gut is not healthy, your skin won't be healthy either. Eat berries, watermelon, avocado, fish, seaweed … anything that will plump the skin. The idea is that you eat well and stick to alkaline foods, which give your skin a natural glow.
What kind of chemical peel do you recommend?
I sometimes do a mix of glycolic acid and salicylic acid peels, but nothing really aggressive. Peels are more to prepare the skin for the products used in the next step. I don't believe in strong peels that destroy the skin to a level where it has that waxy, shiny glow. That's not a healthy glow. If you overstrip the skin, it becomes sensitized and then you will have more problems after.
What are you favorite skin-care products?
I swear by SkinCeuticals, I've been using that brand for about 12 years and their vitamin C serum is one of the best on the market. I like La Roche-Posay's cleansers; they are very well formulated and aren't expensive. I also like the hyaluronic acids from either Dermaceutic or SkinCeuticals for skin hydration. In the evening, I recommend hyaluronic acid and sometimes Retin-A.
I recommend that two days a week you don't use anything after you wash your face at night, because you want your skin to renew. If you constantly force-feed it, your skin doesn't know what to do. It's like a skin detox. Some people say "It's dry, it's dry," but that's because your skin is used to taking a product. This is not a product, but never wash your face in a shower because it's hot and will dehydrate the skin. Sleep is also very important. Be happy!
This interview has been edited and condensed.