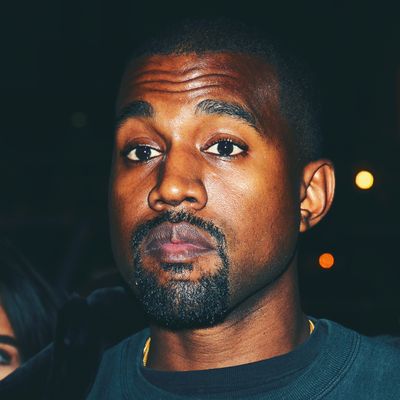 Kanye West.
Photo: Marc Piasecki/GC Images
Most celebrities stop by TMZ to plug a show or entertain mindless gossip, but Kanye West approached his appearance today a little differently. The "free-thinker" joined Harvey Levin on "TMZ Live" to suggest that "slavery was a choice" and to reiterate his love for Donald Trump. He also addressed his drug addiction, saying:
I was addicted to opioids. I had plastic surgery because I was trying to look good for y'all. I got liposuction because I didn't want y'all to call me fat like y'all called Rob [Kardashian] at the wedding and made him fly home before me and Kim got married. I didn't want y'all to call me fat so I got liposuction, right? And they gave me opioids, right? And I started taking two of them and then drive into work on the opioids, right? And then my boy … and I'd always ask my boy, you know, "we on tour give me some weed blah, blah, blah," so he had to go get me the opioids. And there was talks amongst my camp like Ye's popping pills, so when he handed them to me he said you know this is used to kill genius, so I didn't take it. Two days later I was in the hospital.
Kanye was hospitalized in 2016 around the same time he cancelled the remaining concert dates for his Saint Pablo tour. At the time, Kanye's camp blamed the week-long hospitalization on exhaustion. Of course his new interview dramatically changes that narrative.
In 2007, Donda West — Kanye's mother — died from complications after undergoing three plastic surgeries: she received a tummy tuck, a breast reduction, and liposuction. Perhaps her surgery, and his own, had occupied Kanye's thoughts more than usual these past few days. Just last weekend he tweeted that he'd like the cover art for his next album to feature Dr. Jan Adams, his mother's plastic surgeon.