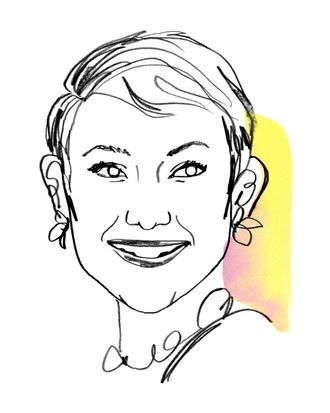 Illustration: Lauren Tamaki
In addition to starring in romantic comedies and writing two best-selling how-to books, Kate Hudson has spent much of the last five years building her subscription-based athleisure company Fabletics. This week, the brand launched a new capsule collection to benefit the United Nations Foundation's Girl Up initiative, which funds programs that promote girls' health and education worldwide. The project is especially close to Hudson's heart, because she is currently expecting a baby girl with her boyfriend Danny Fujikawa. She also has two sons, Ryder, 14, and Bingham, 6, from previous relationships. Here's how she gets it all done.
On her morning routine: The first thing I do when I wake up is … try to wake up. I do this stretching thing where I actually pay attention to my body for a second, how I move. I usually wake up around the same time as my kids. We're all up at 7:20 a.m. It's just immediate life! You know, breakfast, who is doing what? One of them didn't brush their teeth, the other one left their clothes everywhere and has to put them in the hamper. My big one is old enough to make his own breakfast, so now it's about, "You're not eating that. No, that's not what you're eating for breakfast." I'm trying to get him to not eat cereal every morning.
I do the quickest zhuzh of all time, then get them to school, come back, and regroup. That's my morning!
On starting Fabletics:
As actors, we go out, we perform, we are artists. That's the big thing that we do. Then on top of it we get to endorse products, right? For me, if I was going to start a company, I wanted to feel good about why I was doing it. If I'm going to use the platform to sell people something, then I want it to be meaningful, and I want it to be authentic, and I want it to be real, and I want to be passionate about it. Everything that our company stands for and what we've created is really what I'm passionate about. It was easy for me. It allows me to talk about all the fun things I love to talk about, like, how do women feel their best? When are we at our optimum? When we're not at our optimum, why are we constantly being told we have to be at our optimum? Can't we just feel shitty today? I wanted our company to not take itself too seriously, but still be focused on the fact that if you want to live a long life, if you want to find the joy for yourself, you have to put one foot in front of the other, and you need a support system.
On being pregnant with her first baby girl:
My whole life has been boys. I have three brothers, I have two sons, I have two nephews, and one beautiful little niece. It's really been me and Mommy [Goldie Hawn] with a whole bunch of boys. Mom and I were at the SAG Awards, and I made a joke: "We need to recruit more women into our house." I'm excited about the balance. I was excited for my boys as I am for my girl, but at least now, if I have another baby, it really won't matter what the gender is at all. At least I have one girl!
On balancing work and parenting:
You need help. I don't mean nannies and all of that — obviously, if you have the means and can hire a babysitter here and there it's wonderful to be able to have help. But I think one of the things that people forget is that we are a community. We are animals! The human animal is community-based. We need each other to support each other to survive. We're not meant to raise children alone; we're meant to raise children inside of our community. My thing is: Use your friends, use your family, use your resources to allow yourself to balance out certain things and to be able to do multiple things if you can. You don't have to be the almighty mother wonder woman and do everything yourself.
My brother and I are a really good example: Basically, my brother [the actor Oliver Hudson] just brings his kids over here every weekend. We live six to eight minutes away from each other. We use each other; we really use each other. I call it guilt-free parenting. It's like if Oliver needs to do something on the weekend or have a birthday party or something he wants to do with his wife, I take the kids. I've got a house full of kids. If I need to do something, Ollie and Erin will take the kids. I had my nephew here all weekend this weekend because Oliver had a million things going on. To me, that's heaven, because the unit becomes even stronger.
On finding time to write her books, Pretty Happy and Pretty Fun:
What I do is, I let everyone in my life know that when I'm focused on one thing, I'm focused on one thing, and that everything else can wait. If I'm writing my book, I'm writing my book. I guess when you get older, you learn how to set your boundaries. I wish I could do 100 things at once but I can't. It gives me anxiety. I don't like it. I start to feel like I'm not having any fun, and I don't feel as creative. What I do is, I say, "I have to just put my boundary down, and this is what I'm doing, and anything else can wait." If people are mad, then they're mad, and that's their problem. I just focus on one thing. Then I switch focus. When I'm working on movies, I let everyone in my life know that that's my priority, and I set certain days aside to do other things. And then, my kids are always my priority, so I schedule my entire life around my kids, which I feel very lucky to be able to do.
On winding down at the end of the day:
Relaxing is really easy for me. Sometimes it's as simple as connecting with my girlfriends. Sometimes that's what I need, you know what I mean? To just relax. Then of course, meditation. Meditation is not necessarily about relaxing as much as it allows for the ability to relax, to really let go. My real relaxing is, "Ugh, I just want to be in bed." I want my whole family there. I want to just watch House Hunters International or something.