This article originally appeared in the March 28, 2011 issue of New York Magazine. We're republishing it here in advance of Prince Harry and Meghan Markle's wedding.
It's a tricky thing, class snobbery. You'd think that the royal family would be, by any definition, at the top of the pyramid. And yet, in 1981, when Princess Diana was Lady Diana Spencer, there were rumors that the Spencers, and indeed many of England's oldest families, considered the Windsors to sit a fair way beneath them on the English class scale. The Windsors only became the Windsors in 1917; before that they were the Saxe-Coburg & Gothas or, as my mother once put it, middle-class Hanoverians. The Spencers, on the other hand, go all the way back to the fifteenth century and have been "poshos" the whole time.
And if the Spencers had a problem with the Windsors, what must the English aristocracy think of the Middletons? One of Kate's grandfathers was a builder and a grandmother was a store clerk. (She and her fiancé do, at least, have reprobate uncles in common. Kate's mother's brother is a coke-dealing, prostitute-supplying multimillionaire, and William's uncle is that well-known friend of Colonel Qaddafi's son, Prince Andrew.) Kate's mother was an airline stewardess; there was a period, among William's friends, when every time Kate arrived on the scene, a snigger of "doors to manual" could supposedly be heard. The Middletons now run a company called Party Pieces; if you go to the website, you can order anything you want for a "butterfly wedding theme." "Her parents have a tarmac drive, for God's sake," said one anonymous member of the Gloucester polo set. Only parvenus travel to their house on tarmac; the upper classes are said to prefer to ride on gravel.
Ranking on Kate for her lowborn status has been a favorite pastime in English social circles since she first appeared on the scene. In addition to her questionable pedigree, she also had a job, as an accessories buyer at Jigsaw, a perfectly respectable high-end high-street clothing chain. She and her sister, Pippa, were known as "the wisteria sisters": pretty, nice-smelling, and incredible climbers. They were compared with the Bouvier sisters, because they so obviously wanted to marry up.
Flight attendants, prepare for cross-check. When William and Kate broke up in 2007, the tabloids went crazy for a likely apocryphal story that they had split because the queen disapproved of the way her mother spoke: "pardon" instead of "what," "toilet" instead of "lavatory," and, worst of all, when her mother met the queen, she said, "Pleased to meet you." For future reference, it's meant to be "How do you do?"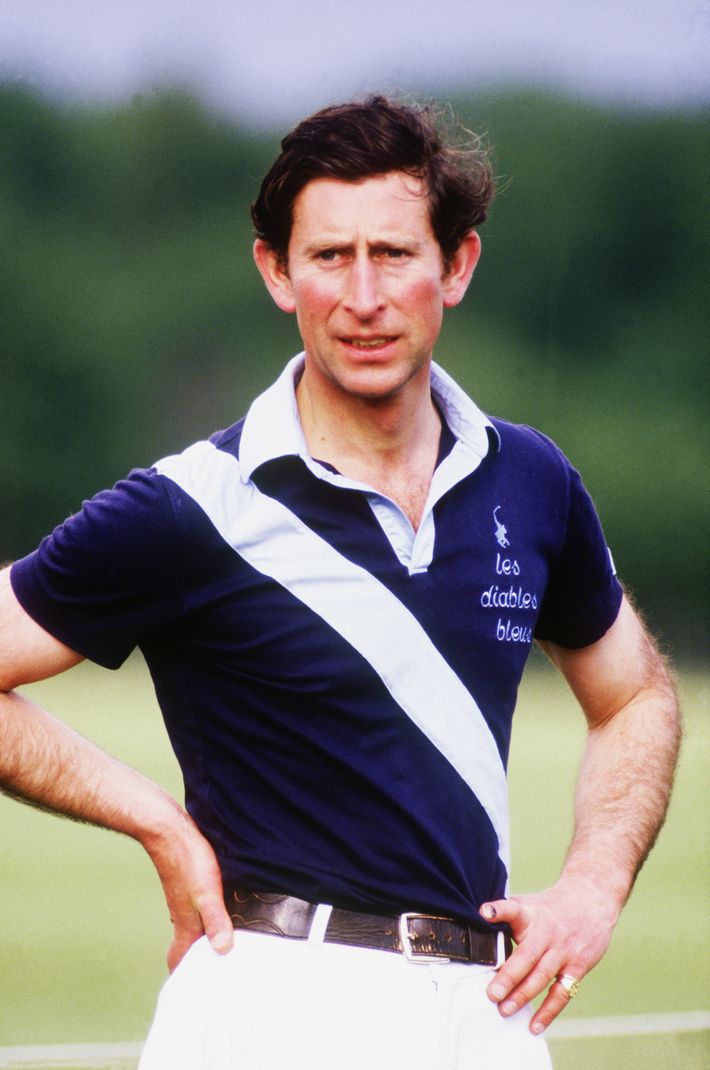 Of course, what looks to some eyes like a story of social climbing can look to others like a true-love Hollywood fable. In this version, William and Kate have stepped out of an Anne Hathaway film, Ella Enchanted in the big city. She's the striving, upwardly mobile pretty girl who is looking for a man to sweep her off her feet, and he is the very kind but repressed and tormented man who wants to break free from his social shackles. It's exactly the kind of royal fantasy that Americans typically gobble up — not quite rags to riches, but definitely Manolos to tiaras.
It's the type of story that's only just beginning to be possible in modern Britain, aristocrats and commoners coming together in a friendly, backslapping, frat-party sort of way. Prince William and Kate Middleton were housemates at St. Andrews university, where he went by the name William Wales. The choice of both name and university were signs of William's desire to lead as normal a student life as possible; protocol would have suggested HRH Prince William, and either Oxford or Cambridge. At first, Kate had a boyfriend and Will Wales had a girlfriend, but as their relationship developed, different kinds of feelings began to emerge. Then, one night, Kate modeled in her underwear for a student charity event, and William could never look at her as just a friend again. They went out for a few years, broke up, saw other people, then got back together and decided to get married; the happy union will take place on April 29. So far, so conventional — a college and postcollege romance. This sort of thing is undoubtedly playing out right this very moment at Colgate and Hamilton and Skidmore and Amherst and anywhere else people smart enough and rich enough and Barbour-jacket-having enough assemble to study art history and slum it with cheap beer. And sure, they come from different backgrounds; she's the daughter of parents who run an online party-supply store (£31.99 for a Fairy Tale Princess Ultimate Party Kit, if you're in the market), and he is the heir to the throne of England. But they love each other and it's 2011, so surely England should be past such concerns.
To understand the class differences, consider this: If Kate Middleton were American, she would be from somewhere like Darien, or possibly Westport, or the horsier parts of New Jersey: Bernardsville or Far Hills. She would probably have gone to boarding school — nothing top-tier but probably something with a retro snob appeal that would have made her strive-y parents happy — Miss Porter's, maybe, or Westover. College would have been something like Trinity — respectable but not so taxing that classes would have kept her from a spring trip to one of the better Caribbean islands. Her job would be in fashion, probably in PR, and it would be understood that her hours would allow ample time for drinks at Brinkley's. Weekends would be for working out at Equinox and the occasional blowout brunch at Lavo. She would probably date a banker with a similar background. She would live on the Upper East Side, or possibly in Murray Hill, even though she'd have lots of friends who live in the West Village. She would get her hair done at Fekkai, and her clothes would be some combination of Jimmy Choos, Ralph Lauren, and ­Theory — sometimes frugal, forever tasteful.
But here is where the stories begin to diverge. William is not your run-of-the-mill hedge-fund bachelor. He's the future King of England. He (and his far more interesting brother, Harry) is surrounded by a posse known around London as the Throne Rangers. The Throne Rangers are not your parents' royal court. The name itself is a pun on Sloane Rangers, a mid-eighties group that hung around London's Sloane Square and King's Road and were endlessly flipping their shiny blonde hair this way and that way before retiring to the old ancestral pile for the weekend to have their Barbour jackets waxed. They believed in old values, and were defiantly conservative when the prevailing fashions in England were far more socialist. They were not Thatcherites (she's the daughter of a grocer), but they were gleefully, unrepentantly Tory.
This Glossy Posse, the other name the media has given them, are simply out for a good time; it's all glitz and fashion. They tend to frequent the same nightclubs, Mahiki and Boujis, as professional footballers and the women who love them (known as "WAGS"). Guy Pelly, known as "the court jester" of the set, is a fixture on the nightlife scene and the proprietor of the newly opened Chelsea nightclub Public, which has a £550 minimum for bottle service at a VIP table and a £1,000 jeroboam of Champagne for those that want it. Nobody gets to see them, however. With the exception of photos in Tatler, the Throne Rangers prefer to stay out of the spotlight. They hire publicists to quash scandal, not to create it. But though a goodly number of them are in the bathroom stalls racking out lines at the same time as ordinary mortal celebrities, social class must still have its privileges, even as the distinctions become ever finer. They insist on a separate VIP area, because not all velvet ropes are the same. Also, the names are a little different: WAGS go by Coleen and Abbey; Throne Rangers have names like Edward van Cutsem (the godson of Prince Charles), and he is married to a woman called Lady Tamara Grosvenor. Vying with Guy Pelly for the position of William's best friend is Thomas van Straubenzee. There isn't a whiff of scandal attached to these names; however, there is Tom Parker Bowles, the son of Camilla Parker Bowles, who was exposed at the Cannes Film Festival in 1999 for giving cocaine to a woman he claimed set him up. He is also a co-founder of Quintessentially, a bespoke concierge service. It was from this social well that many of William's alleged former flames sprang: Davina ­Duckworth-Chad, Natalie Hicks-Lobbecke, Carly Massy-Birch, Arabella Musgrave, and Jessica "Jecca" Craig, who was the guest of honor at William's 21st-birthday party. When William and Kate were on a break (they are the Ross and Rachel of the Chelsea set), the girls who thought they were in with a chance at bagging the heir called themselves ­Willabees and looked down on the girls who were more interested in regular celebrities as WAGabes.
Kate, the winning Willabee, and William are forging their own path, and it's a highly respectable one. Until January, she was working for Party Pieces, and at one point took a technology course on how to produce digital catalogues. He is a bad cook. They are not thinking about children yet, preferring to get the wedding business over with first. He says she comes from a very supportive family; she and the queen had a nice "little chat" when they met. It's all not very Balmoral.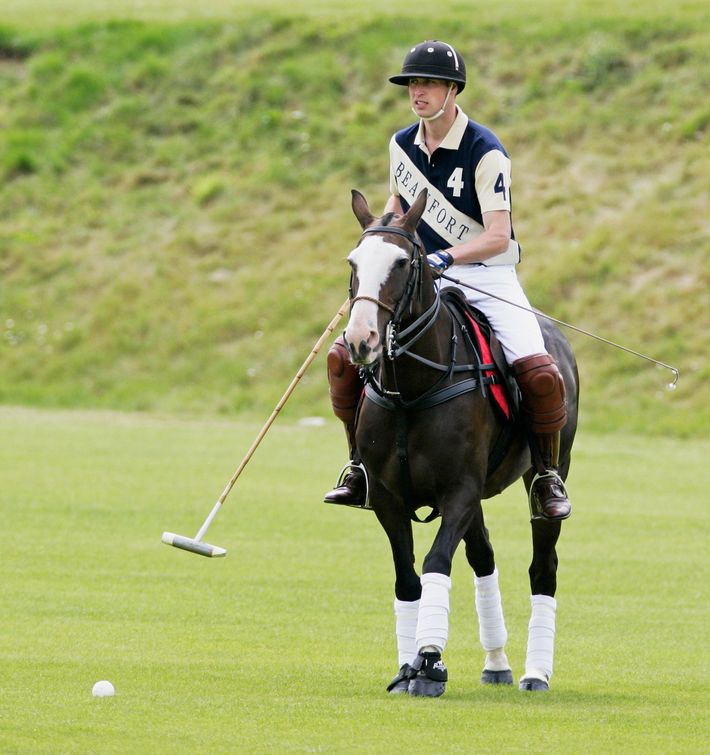 Kate's real competition, famously not dull at all, is her dead mother-in-law, the Real Housewife of Kensington Palace, England's first reality-television star. In the Panorama interview in 1995, better known as the "Queen of Hearts" interview, Diana uses all the language of a Real Worldconfessional. She takes half the responsibility for the failure of the marriage, but her share of the blame is mostly that she cared too much, loved too much, and felt too much, and acted accordingly. Charles, on the other hand, got annoyed because the photographers wanted pictures only of her, not because of anything she'd done but because of her big and amazing heart. She also confesses to bulimia (and why it's better than anorexia if you have to be photographed) and self-harm — she's vague about the details, but it involved her arms and legs. She also suggests that the royals are out to get her, claiming they see her as a "threat of some kind." Diana set a model of behavior for not only princesses but also for every jilted bachelorette who had the wit to position herself in front of a camera. Without Diana, there would not have been Camille Donatacci Grammer. We might not even have to know about Kelly Killoren Bensimon. Diana defined the role of celebrity princess in such a way that no one could possibly measure up — if, indeed, any person of reasonable sanity would want to live that way.
The aspect of Diana's legacy that Kate has to contend with has less to do with humanitarian relief than with shifting units. Diana was a real whiz at that; she sold more magazines than basically anyone else ever, and if Perez Hilton had her to deal with, nobody else would ever have got a look in. The first issue of Time magazine that came out after her death had her face on the cover and sold 850,000 copies on the newsstand; its normal sales were 250,000. They put her face on two subsequent issues. This was true in life too: Endlessly chased by the paparazzi, she died before TMZ started, or the scrum would have been even bigger. And if you go to the Taj Mahal today, thirteen years after her death and nineteen years after her visit, you will see a line of tourists waiting to have their picture taken on the bench where she famously sat, looking so pretty and so sad.
Her death, as is well known, caused the greatest constitutional crisis since the abdication of Edward VIII, or, to be more accurate, since Edward VIII's desire to marry a divorced American socialite named Wallis Simpson. The queen had never been more unpopular — WHERE IS OUR QUEEN? was one headline, SHOW US YOU CARE another. In London that early September, it felt as though the monarchy were on its last legs. There was also "the Diana Effect" — the end of the British stiff upper lip, showing your feelings, crying in public — it's thought to be when Britain stopped being Britain and became America.
Kate and William are, at least, more or less the same age: 29. In fact, she's five months older than he. Diana was 20 when she married the 32-year-old Prince Charles, and that twelve-year age gap always seemed more like 200 years. Also, Diana was famously a virgin when she married Charles, albeit one who had been photographed in a see-through skirt with no slip on underneath. The world knew what was coming on her wedding night—that it might be somewhat traumatic, the virgin and the toothy old guy who didn't seem to like her very much. ("Whatever 'in love' means …") William and Kate have not only had plenty of other relationships; they have been together for so long that presumably their romantic relationship is already that of a married couple. Maybe she buys special underpants for his birthday, but beyond that, it's probably all quite consensual and respectful and nice. This is what Kate has to contend with, and basically she is dealing with it by being as respectable as possible. Kate's modest dresses and glossy hair are very much in keeping with En­gland's new austerity program, the return to traditional British values that the new government is so keen on. For the official Mario Testino engagement photos, she wore a dress from Reiss, a not very expensive chain shop, from a season ago. The happy couple are asking for charitable donations in lieu of the 6,000-plus wedding presents that Charles and Diana received. She has publicly gotten angry with the paparazzi only once: They surrounded her on her way to work, and her lips got a little pursed. Kate's model in all this is the queen herself, who, with the exception of the "Annus Horribilis" speech, has never remotely let her guard down in public, and even that was in Latin. Other than that, Elizabeth has been the model of rectitude and thrift in the public eye for over 50 years now. Kate has clearly been paying attention. The true fact of William and Kate is that they are, when the cameras stop snapping, quite dull. That, of course, is their great trick; a quiet abdication, an abdication by ordinariness.
In the tabloid and reality-television era, this may have financial implications. More than ever, the royal family is a business, and their business is Britain; they are there to promote it. No matter how respectable (read dull) Wills and Kate are, the wedding will certainly be massive. It's thought that a billion people worldwide will watch it on TV. There was even some talk of broadcasting it in 3-D. That thinning royal pate will be coming at you in high definition. The chief executive of VisitBritain, the government's tourism agency, predicted that thousands of people would jet in from near and far to join the crowds planning to line the streets around Westminster Abbey and that tourism in England would get "a halo effect," the warmth of people's feelings for the happy couple rushing Britain to the top of the desired-summer-­holiday-­locations standings. Wedding-merch sales — mugs and plates (tea towels are officially banned), an official £5 coin, that sort of thing — could run to £26 million, with a further £360 million in food and grocery sales as families cluster around the flickering screen as though it were still the fifties and there were only one channel on offer. So that's obviously good. Furthermore, the Middletons have offered to make a quite significant contribution to the estimated £10 million cost of the wedding so that the burden does not fall entirely on the royal family and by extension the taxpayers, particularly when Britain is in such severe economic distress. Apparently they would like their contribution to cover something discrete, the honeymoon or the flowers or something; they want to do more than just write a check.
But it turns out that historically, royal weddings actually are bad for tourism — even when the royals in question were considerably more vivid than the current pair. The wedding of Charles and Diana accompanied a 15 percent drop in U.K. tourism, while that of Prince Andrew and Sarah Ferguson saw an 8 percent decline from the average for that time of year. Perhaps tourists don't like knowing they're officially not the center of attention. On top of that historic bad news, the Department of Homeland Security has announced a travel advisory for Britain during that period because of increased fears of terrorism, so that eliminates Americans, and they're generally thought to be the ones who care. In additional bad news, the economy is predicted to take a £5 billion hit, dwarfing any uptick in mug sales. Prime Minister David Cameron has declared April 29 a national holiday, and as it follows the three-day Easter weekend, the theory is that many people will simply choose to take that whole week as vacation time; airline reservations are way up for that week.
So the royal wedding is not liable to be much of an economic stimulus — but is it good for the brand? If Kate and William follow the example of his grandmother, and if the only people who care about the difference in their respective social standings are a small group of Hooray Henries in West London, and if they don't seem to be helping the British economy, and if they don't really help sell magazines in the long run, what are they there for? Or, to put it another way, does England really need Kate when they already have a very pretty, privileged, shiny-haired princess in town? After all, Gwyneth Paltrow lives there.