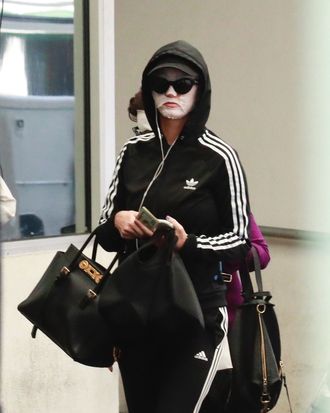 Photo: GEDU, JOLA, SALA/Terma / Bruce / SL / BACKGRID
The family that sheet masks together, glows up together. Yesterday, hydration partners-in-crime Katy Perry and her mom left the Beverly Hills office of Dr. Jason Diamond. At least, the paparazzi are assuming it's Perry and her mom, as both are wearing sunglasses and matching completely face-obscuring, serial killer-like sheet masks.
Perry posted a brief video from the doctor's office, where they both say hello. Perry and mom are both impressively able to exchange, "I love yous" without the sheet masks sliding down their faces. The duo then walked to the car, cocooning their faces in hydration as they let the occlusive benefits of the sheet mask get to work. Perry hashtagged the experience of moisturizing while retrieving their car #bonding. The two glow efficiency experts are joining fellow famous sheet-maskers-in-public, Jenna Dewan and Fan Bingbing.
Just don't show these pictures to cosmetics cop and anti-sheet-masker, Paula Begoun.