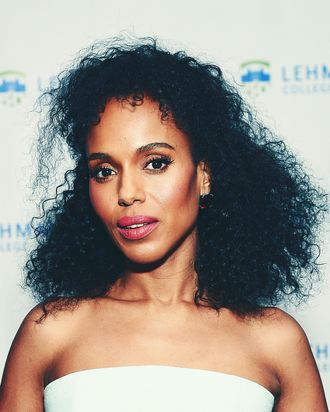 Kerry Washington.
Photo: Mike Coppola/Getty Images
Though the final episode (ever!) of Scandal aired last month, Kerry Washington, the show's star for seven seasons, is keeping busy. She teamed up with Reese Witherspoon to produce an adaptation of Celeste Ng's Little Fires Everywhere, and last month she introduced her first makeup collection with Neutrogena.
Washington isn't new to Neutrogena; she's been an ambassador and creative consultant for the brand since 2013. And while she's helped to extend Neutrogena's foundation range in the past, her just-released eye and cheek palettes mark her first makeup collection. The Cut was able to briefly catch up with Washington last week. During our chat, we learned that she is very good at doing her own makeup (her makeup artist was there to agree), and that she double cleanses with makeup wipes every night. Below, our conversation.
What do you enjoy the most about makeup?
For a long time I was afraid of makeup, particularly as a teenager and during my young adult years. I had to learn about makeup in the hair and makeup chair on different films, TV shows, and photo shoots. I had to learn that makeup isn't about putting a mask on; it's not about becoming somebody else. It's really about bringing the best version of yourself forward, and that you can use these tools to enhance who you are without feeling like you have to be somebody that you're not.
What's your argument against the idea that makeup is somehow frivolous?
It's about balance. I would never say you should spend all your time at home watching YouTube tutorials about the most important makeup trends and never read a great book, or never go to a museum. It's about appreciating beauty in many ways, so appreciating the beauty of the Sistine Chapel, appreciating the beauty of spring flowers, but also … this thing that we're walking around in, our body, it's the one thing we have when we're born and it's the one thing we die with. I have to treat my body with love and a sense of joy and celebration, and that is not a frivolous thing. That's part of how I'm choosing to live my life, to say "I respect and take good care of this body that I'm in."
Are you good at doing your own makeup?
I am! Whenever I meet Carola [Gonzalez, Kerry Washington's makeup artist] somewhere where I've done my own makeup, she's like: "you look good!" Sitting in the hair and makeup chair for Scandal every day and watching the makeup artist … I definitely picked up a few tricks.
Do you really take off your makeup every night?
Every single night. I double cleanse every night. It doesn't take that long. The wipes get everything so quickly — that for me is the double cleansing. I use the wipes to get it all off, and because they are so effective it doesn't take very long.
What's your go-to remedy on a bad skin day?
A facial is always great. I like our spot treatments a lot too. I also switch to a salicylic cleanser.
Rihanna recently released a makeup tutorial for Fenty Beauty. If you were a beauty vlogger, what kind of makeup style would you to show off?
I don't know if I'd ever be able to be a beauty blogger. I'm drawn to beauty that's not too complicated. How to create the best sense of yourself without too much effort, and quickly.
This interview has been edited and condensed.