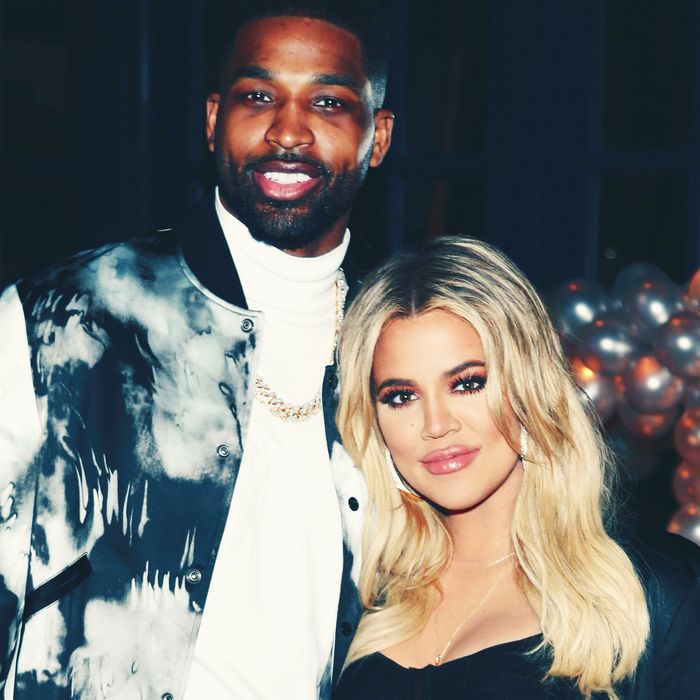 Khloé Kardashian and Tristan Thompson.
Photo: Jerritt Clark/Getty Images
Just 21 days ago, Khloé Kardashian gave birth to her first child in the midst of a maelstrom of drama surrounding her relationship with the baby's father, Cleveland Cavaliers player Tristan Thompson. As Kardashian was about to go into labor, tabloids including TMZ and the Daily Mail revealed that Thompson cheated on her with multiple women throughout her pregnancy. So, uh, how is she doing now? The official Kardashian news network, E!, reports this morning that she is "living in hell." :(
According to E!'s source, Kardashian is "glad" that Thompson is around to help with the baby, a girl they named True Thompson, but "she has also been spending a lot of time alone reflecting. They don't speak much about the situation, and Khloé feels like she is living in her own personal hell. The only thing keeping her happy right now is True and the support from her family."
The source adds that not one of Kardashian's sisters has spoken to Thompson since the cheating scandal broke. The family is hoping that Khloé will leave Cleveland, where she's been staying since the baby was born, and return to Calabasas as soon as possible. Mom Kris Jenner "thinks it's time for her to come home and start the chapter over with True," the source says. "They all are going to support whatever Khloé decides but have lost all respect for Tristan."
So far, Kardashian has not commented on her plans. We pray for her to find peace, as always.