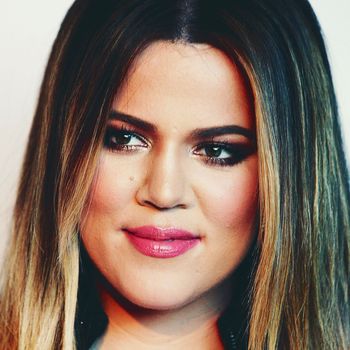 Khloé Kardashian.
Photo: Lisa Maree Williams/Getty Images
It was just on Thursday that E! News — the official channel of all things Kardashians — informed us all that our dear Khloé has been "living in hell." Only one day later, we learned that "hell" apparently includes Tristan Thompson, since the new parents are apparently back to living together after his cheating scandal.
According to People, Thompson, 27, "is back at the Cleveland house" that he shares with Khloé and their three-week-old daughter True. The basketball player hadn't been sleeping at home since True's arrival — you know, because news that he cheated on Khloé repeatedly throughout her pregnancy came out the same week as his daughter's birth.
Since then, we'd heard (and prayed) that Khloé was planning on moving back home to Calabasas, but now … we aren't so sure, as she apparently wants to make things work with Thompson.
Per People:
"Khloé seems happy," the source says. "She loves being a mom. She's focused on keeping her family together. She seems okay with Tristan — there's no talk of a split."




"When she wants something to work, she will make it work," the source adds. "Her family's issue with Tristan is that they think he won't change. But Khloé isn't listening to this. She has been very firm with Tristan, and she believes he wants to keep his family together as well."
Oh, Khloé. On the one hand, we get it — breaking up right after going through childbirth sounds like a real bummer. But on the other hand, we just want Khloé to be happy. So hopefully this "hell" won't last too long.