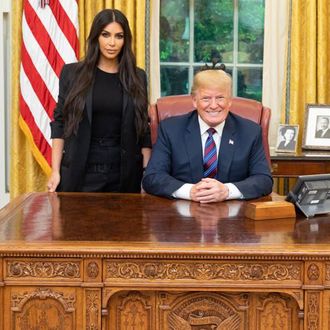 Kim Kardashian West and Donald Trump.
Photo: @realDonaldTrump/Twitter
To meet with President Donald Trump about prison reform at the White House on Wednesday, Kim Kardashian West may have worn a hidden message. The letters "V-E-T-E-M-E-N-T-S" seem to be emblazoned across the bottom half of her black pantsuit, referring to Vetements, the fashion brand founded by Georgian designer Demna Gvasalia.
What does it mean when a reality-TV star and skilled scammer wears a clothing line famous for scamming to meet with another reality-TV star and Scammer-in-Chief? Vetements did not immediately respond for comment, and Trump doesn't seem to have noticed. Or tried to pronounce the brand's name.
We're not going to think about it too hard, either.