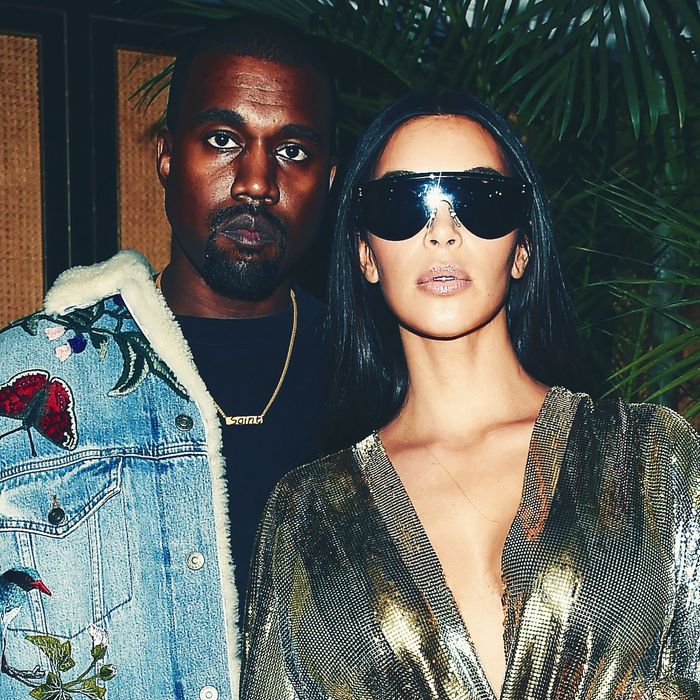 Kanye West and Kim Kardashian West.
Photo: Jacopo Raule/Getty Images
On Saturday morning, it seemed as if Kim Kardashian West was primed for a Memorial Day weekend full of promotional tweeting. Her first tweet of the day informed her 60 million followers that, in celebration of the release of her new fragrance, Crystal Gardenia ("A voluptuous, lush and feminine fragrance") KKWFRAGRANCE.COM would offer promotions for both her Stateside and international customers.
But her following tweets took on a different tone. In a series of messages, Kardashian lashed out at Kanye's former collaborator Rhymefest, accusing him of a bevy of sins, including "fake" community politics and activism, wearing counterfeit Yeezy sneakers, and misrepresenting his relationship to Kanye. The tweetstorm was the latest incident in a drama that had started earlier that day, when Rhymefest accused West of financially abandoning Donda's House, the Chicago-based youth charity they'd started together (and named after West's late mother).
Rhymefest claimed the rapper had said "f–k the youth of Chicago." Then, he appealed to Drake — who's currently beefing with West's G.O.O.D Music artist Pusha-T — to donate to Donda's House.
On Sunday, Kim doubled down on her defense. "Kanye gave his 'friend' an opportunity to run an organization on his own," she wrote. "So now that Kanye is being publicly shamed for not being involved makes no sense and, at this exact time, just seems very calculated." At one point, Kim threatened to "take" the organization for her children. To some, Kim's tone had come off as pompous and dismissive.
The Kardashian Wests' relationship is grounded in the loyalty born of two people who feel compelled to publicly protect each other. When Amber Rose revealed that Kanye and Kim had dated while she was still involved with Kanye, implying that Kim was a homewrecker, Kanye responded by saying that he'd had to take 30 showers after dating Amber before being sufficiently clean for Kim. Kim has always been her most chameleonic in romantic relationships: With Kanye, she has adopted the burdens of the loyal "ride or die" spouse.
On Monday, Donda's House, in response to the controversy, announced that they would be changing their name (for now, the website and social media still bear the original moniker). The Kardashian Wests have since headed to Wyoming. Drake released another single. And according to Kim Kardashian West's tweets, Crystal Gardenia, the perfume that Kim had begun her holiday weekend promoting, has sold out.