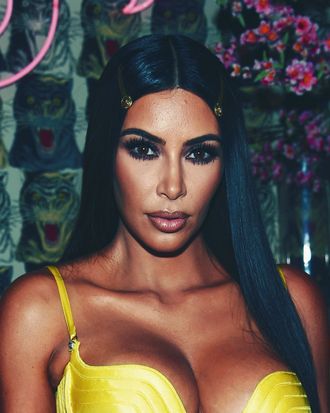 Kim Kardashian West.
Photo: Dimitrios Kambouris/Getty Images
Kim Kardashian West will receive the Council of Fashion Designers of America's very first influencer award at the CFDAs next month — known colloquially (and generously) as the Oscars of fashion. She will accept the award in person in New York next month.
It was all Tommy Hilfiger's idea to present Kardashian West with an award, according to WWD. CFDA president Stephen Kolb said, "[The board] all agreed that Kim was someone who has really impacted the industry and has changed the way brands are presented. She's a friend of a lot of the designers and has had great influence on fashion globally."
Kolb is also hoping that Kardashian West's influencer-power will boost the status of the CFDAs in general. "There's great value in acknowledging her, but also for the event itself and the exposure it brings," Kolb said. After all, Kim will most likely post photos of herself at the event for her 111 million followers to see. There's no such thing as a free influencer award.