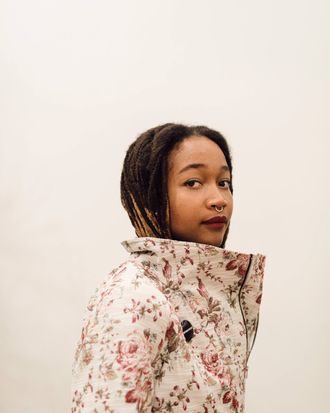 Kimberly Drew.
Photo: Carmen Chan
"I'm peaking, guys," Kimberly Drew tweeted this week.
But with a résumé that begins at the The Studio Museum in Harlem and ends (for now) at the Metropolitan Museum of Art, where Drew currently works as social-media manager, it's hard to imagine that Drew is only now reaching her peak. She founded her Tumblr, Black Contemporary Art, back in 2011, sparking an interest in social media. Seven years later, she has an Instagram following of 175,000 people, all of whom trust her taste as a writer, curator, and activist.
This Saturday, Drew will sit down for what she describes as a "peak" conversation with the legendary Harry Belafonte at the Red Bull Music Festival in New York. Belefonte, she says, is "easily the coolest person I may ever share a stage with." (And she's shared a stage with Solange before.) Before the big day, though, Drew turns the spotlight on some other people, places, and things she thinks deserve our attention.
How do you thank people for a gift?
I am a deeply emotional person, and am good for breaking out in happy tears.
What's a trend you never want to die? 
Saying hello when you pass strangers on the street.
Designer you think deserves more attention? 
The designers at the non-profit Open Style Lab who create tech-based wearable solutions for people of all abilities.
Artist you think deserves more attention?
Way too many too count, but women in their 80s are having a moment and it makes my heart so deeply happy. Hopefully our generation can give women artists the support they deserve at all stages of their careers.
Big sunglasses or tiny sunglasses? 
The bigger the better. Just want to plug the fabulous Coco and Breezy — their frames are beauties.
What's your dream vacation? 
A stay in the Benessee House in Noashima, Japan.
What's your guilty pleasure? 
Leaving sappy love letters to my friends over voice notes on WhatsApp.
What's the most recent account you followed on Instagram? 
Rachael Barrett (@rachaelb360), a lecturer at Edna Manley College in Kingston, Jamaica, who has been schooling me on the history of Calypso ahead of my chat with Harry Belafonte. We were introduced by Gerardo Gonzalez over DM.
Last show you binge-watched? 
Atlanta.
Most-used emoji: 
Honestly, I love a good :) over any emoji.
What's your favorite …
Pair of jeans?
69's front flap jeans.
T-shirt?
I have a two vintage Freaknik T-shirts that are my prized possessions.
Podcast?
Still Processing with Jenna Wortham and Wesley Morris.
Nail-polish color? 
Madeline Poole recently released a collection of polishes. I love them all, but especially Slime Scene. (I'm wearing it right now.)
Drink?
Gruet Savauge from New Mexico.
Candle? 
Byredo Tree House.
Sheets/bedding?
I love The Company Store.
Suitcase?
I just treated myself to a candy apple red Rimowa suitcase and I'm never turning back.