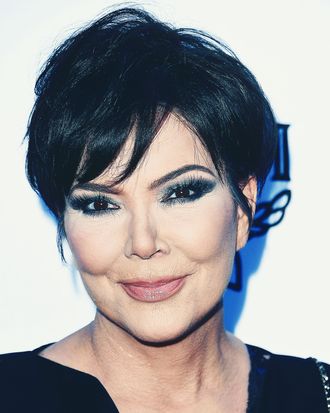 Kris Jenner.
Photo: Steve Granitz/WireImage
Kongratulations are in order! On Tuesday afternoon, Kris Jenner bravely took over the social-media accounts for her daughter's Kylie Cosmetics, renamed them Kris Cosmetics — yeah, you already know what's coming — and announced that she's dropping her own line this weekend, on Mother's Day. Is a cult-favorite Kris Lip Kit in our future?
Jenner made the major declaration in a short video, which is incredibly dramatic and silly and overall perfect. Jenner slowly rolls into the video frame in a Rolls-Royce with the license plate "FABUL❤S," after which she crosses out Kylie's name on a piece of printer paper, and then sits in an ornate white throne and pulls down her large black sunglasses (is she not a tiny-sunglasses evangelist like all her daughters?).
Kylie took to Instagram Stories on Tuesday to show off her mom's collection, and she featured Jenner reclined on a hotel bed, holding up her packaging (which she repeatedly declares how much she loves). There's an eight-color lip collection called Momager. There's also lipstick, which come in a tube covered with middle fingers — so edgy! And, a personal favorite: There's a 12-shade eye-shadow palette featuring colors named I Love Myself, I'm Watching You, Vodka Tonic, and Paybacks a Bitch. Sadly, there is not one titled I Love My Friends, after her iconic 30th-birthday music video.
Anyway, time to add all of these products to our Mother's Day gift guide.