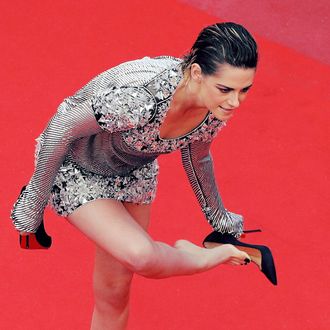 Kristen Stewart.
Photo: Vittorio Zunino Celotto/Getty Images for Kering
The Cannes red carpet is largely a solemn parade of gorgeous, poofy gowns and various Hadid's legs. But every once in a while, a celebrity decides to let loose in the comfort of the French Riviera, surrounded by their 1 percent ilk. Yesterday, that star was Kristen Stewart, who took off her stilettos to climb the red carpet stairs.
Stewart decided to make herself a little more comfortable, or, as comfortable as one can be when wearing a heavy silver mini-dress. Cannes has a controversial ban on flats for the red carpet, which Stewart has protested not once, but twice. In 2016, she wore often wore sneakers with her dress and changed into pumps just for photos. She also gave the finger during the photos. Marion Cotillard also broke the rules earlier this week. One small step for K-Stew, one giant step for equal shoe-rights. Next up: selfies.