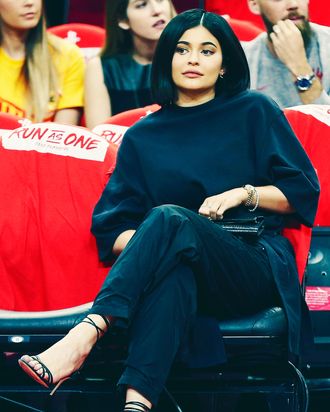 Kylie Jenner.
Photo: Bob Levey/Getty Images
Kim Kardashian took some time off from defending her husband's alarming tweets to interview Kylie Jenner for London newspaper the Evening Standard, in which the sisters chatted about changing diapers (Jenner likes it), being famous (Jenner is okay with it), and having a baby (Jenner loves it).
Kardashian also got Jenner to touch on one question we've pondered, at least once: What was her inspiration behind her baby Stormi Webster's unique name?
Jenner responded, "I really don't know how we thought of Storm. Her dad insisted it was him, but I feel like it was me. And that kind of just stuck with us."
But, apparently, after some time, Jenner realized she "didn't really like just Storm." Hence, it became Stormi. "I feel like there were a lot of other names that I might have even liked better, to be honest, but I feel like Stormi picked her own name, like it was just her name," she said.
So, there's our answer: There was no specific inspiration, Jenner and Travis Scott simply liked the sound of it. Case closed, glad that's settled.