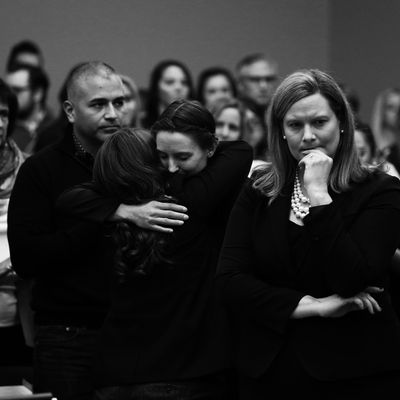 Photo: Jeff Kowalsky/AFP/Getty Images
Earlier this year, former USA Gymnastics doctor Larry Nassar was sentenced to prison for up to 175 years for sexually abusing more than 140 women and girls (and at least one boy). Now, the survivors who spoke out against him are being honored with the Arthur Ashe Courage Award at the 2018 ESPYS.
ESPN announced their decision in a tweet on Wednesday, and in a statement, Alison Overholt, vice-president and editor of ESPN The Magazine said:
We are honored to recognize the courage of these women at The 2018 ESPYS, to acknowledge the power of their voices, and to shine a very well-deserved spotlight on what speaking up, fighting back, and demanding accountability can accomplish. They have shown us all what it truly means to speak truth to power, and through their bravery, they are making change for future generations. By honoring this group who spoke out, we aim to honor all of those who are survivors of abuse.
Over 100 women spoke at Nassar's sentencing trials in January and February. In her victim impact statement, Olympian Aly Raisman said, "Imagine feeling like you have no power and no voice. Well, you know what, Larry? I have both power and voice, and I am only beginning to just use them. All these brave women have power, and we will use our voices to make sure you get what you deserve: A life of suffering spent replaying the words delivered by this powerful army of survivors."
Every year, ESPN presents the Arthur Ashe award to individuals whose bravery "transcends sports." Past winners have included Eunice Kennedy Shriver, Caitlyn Jenner, Robin Roberts, and Nelson Mandela.