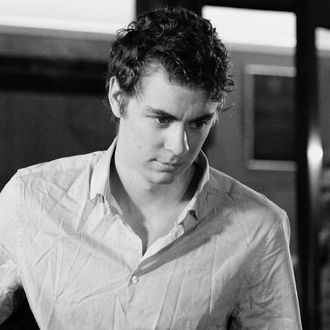 Brock Turner.
Photo: Dan Honda/TNS via Getty Images
The lawyer representing the judge who handed accused rapist Brock Turner a lenient sentence is claiming that the victim did not write the viral impact statement she read in court.
In June 2016, California Superior Court judge Aaron Persky sentenced Brock Turner to a mere six months in jail for sexually assaulting a female college student behind a dumpster in 2015. Following the sentencing, BuzzFeed News published the letter that victim Emily Doe read in court, which instantly went viral and later won her a Glamour Woman of the Year award in 2016.
Speaking of Brock, Doe wrote, "He has done irreversible damage to me and my family during the trial and we have sat silently, listening to him shape the evening. But in the end, his unsupported statements and his attorney's twisted logic fooled no one. The truth won, the truth spoke for itself."
In the years since, opponents of Stanford's lax sexual-assault disciplinary process and Persky have launched a campaign to disrobe the judge, and Vogue writer Bridget Read reports that the Recall Judge Aaron Persky campaign, led by Stanford professor Michele Dauber, has successfully pushed the recall onto Santa Clara's June 2018 ballot — no small feat.
But in the same report about the recall campaign is an allegation from Persky's lawyer that has not yet been reported: that Emily Doe did not write her viral letter.
The accusation, below:
Reached by phone a few weeks before the recall election, Jim McManis (BA '64), who described himself as Persky's lawyer, of the firm McManis Faulkner (which provides "major funding" to the anti-recall campaign Voices Against Recall), also seemed to contest some facts of the Turner case, despite the resulting convictions. "This woman was not attacked," he said, and also mentioned that Emily Doe "had been drinking before she arrived at the fraternity party." McManis even went so far as to claim something new: that Emily Doe did not write the viral victim's impact statement she read in court, for which she won a Glamour Woman of the Year award in 2016. McManis claimed he had "a report from someone whose judgment I respect" that the statement was instead "written by a professional battered women's advocate from the YWCA," though he admitted that he had not "independently verified" this claim.
In the Vogue report, Dauber responds to McManis's "appalling" allegation, saying that the claim that Doe did not write her letter is "untrue and completely inappropriate."
"She wrote in her victim impact statement that it was an effort to recover her own voice — and now Judge Persky's campaign is trying to silence her yet again," Dauber told Vogue.
Katie Baker, the BuzzFeed News investigative reporter who published Emily Doe's letter in June 2016, also disputes McManis's claims.
"I am not only completely confident that she authored that brave statement but think any suggestion that she didn't is a shameless attempt to silence and discredit other victims of harassment, assault and, abuse," she told the Cut.
McManis did not respond to the Cut's request for comment.