Over lunch this spring, Nikola Burnett, a 15-year-old who always carries two cameras — one film and one digital — sat staring at an Instagram selfie, perplexed. The subject was Miquela Sousa, better known as Lil Miquela, a 19-year-old Brazilian-American model, musical artist, and influencer with over a million Instagram followers, who is computer-generated. "She's not real, right?" Nikola asked me shyly. She knew the answer, but something about Miquela made her question what her eyes were telling her.
At first glance, or swipe, Miquela could understandably be mistaken for a living, breathing person. She wears real-life clothes by streetwear brands like Supreme and luxury labels like Chanel. She hangs out with real-life musicians, artists, and influencers in real-life trendy restaurants in New York and Los Angeles, where she "lives." When Miquela holds her phone to a mirror, her reflection stares back. When she is photographed in the daylight, her body casts a shadow. She even complains about allergies and often references the temperature with tweets like "39 degrees out im still getting this iced matcha."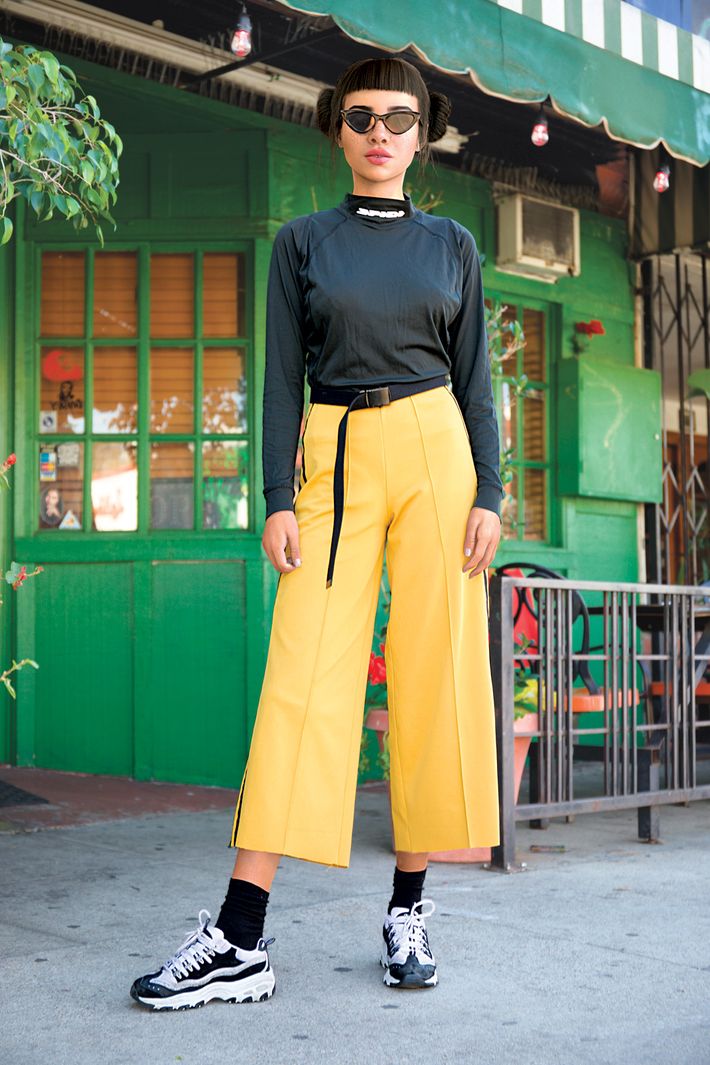 In selfies, you can see the freckles on Miquela's face; her gap-toothed smile. But up close, her brown hair, often pulled into Princess Leia–esque buns, looks airbrushed (Twitter users have noted that her flyaway frizz always falls in the same pattern). Her skin reads as smooth as the glass screen that separates us. And when you peer into Miquela's big brown eyes, she fails the ultimate test of humanity. No, Miquela isn't real — at least not like you and me. She is an avatar puppeteered by Brud, a mysterious L.A.-based start-up of "engineers, storytellers, and dreamers" who claim to specialize in artificial intelligence and robotics.
Until my conversation with Nikola, it seemed like an indisputable fact that Miquela wasn't real. But then I remembered something similar had happened to me in February as I watched the Instagram livestream of Gucci's fall 2018 show. Inspired by Donna Haraway's 1984 A Cyborg Manifesto, the collection was a hybrid of actual and fantastical references. Two models carried replicas of their own heads down the runway, while another cradled a "dragon puppy" that looked like it had come straight from Game of Thrones. Maybe it was the jet lag — I was in Milan for Fashion Week — or maybe it was the dizzying effect of good art, but something moved me to text my editor, seated in the front row: "Those dragons weren't real … Right?"
We humans have been tripping over the differences between real and fake ever since our forebears saw shadows on cave walls. But it used to be that real-looking fake humans were confined to Disney parks, movies, music videos, or video games. We could turn them off, or leave them behind. Now they occupy spaces once reserved for real-life people experiencing real-life things.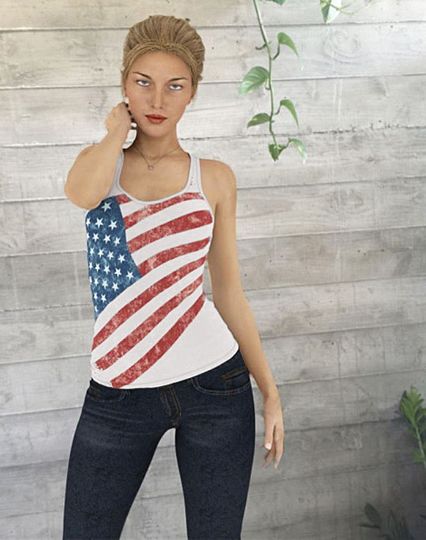 Like having your Instagram account hacked. Miquela is positioned as a social-justice warrior of sorts, and on April 18, a pro-Trump, self-proclaimed "robot supremacist" CGI character named Bermuda wiped her account clean, posting photos of herself, instead. She proceeded to accuse Miquela of being a "fake ass person" who was duping her followers (the irony being that Bermuda isn't real either). Then she issued an ultimatum: Miquela couldn't have her account back until she promised to "tell people the truth."
Naturally, this got Miquela's followers, or "Miquelites," all worked up. "Bring back the real Miquela!" they cried. Conspiracy-driven corners of the internet linked the hack to a theory that the world was going to end on April 18, coincidentally via a robot takeover. For the average Instagram user, though, it was like watching a soap opera unfold on their phones. "Why is robot drama more dramatic than my life," wrote one.
In the end, Miquela's big reveal was shocking only in its obviousness: "I'm not a human being," she said when Bermuda relinquished her account. "I'm a robot." Miquela blamed Brud for leading her (and consequently her fans) to believe otherwise. But, of course, that was also her creators talking.
If this is starting to sound like the plot of Westworld, that's the point. Miquela's "hack" seems to be an elaborate PR stunt orchestrated by Brud (though as is its Oz-like wont, Brud insists that another AI company called Cain Intelligence begat Bermuda). To what end, though? Was this just a way to vault Miquela into the influencer stratosphere, so beauty and fashion brands would pay her handsomely to peddle their wares? (The buzz generated by Bermuda's attack did push her to over a million followers, a benchmark that opens up new partnership opportunities.)
Or was this a Kanye West–style press junket to stir controversy before an album drop? Brud co-founder Trevor McFedries has a past life as a DJ and music producer, working with Katy Perry, Kesha, and Azealia Banks under the moniker "Yung Skeeter." And Miquela has two delicately Auto-Tuned pop singles on Spotify, which have amassed a combined 1.5 million streams. I listened to one of them for a month before realizing it was sung by a robot that I happened to follow on Instagram.
The plot thickens when you know that McFedries, according to his LinkedIn account, used to work at Bad Robot, the production company of famed sci-fi director J. J. Abrams. Maybe all of this is an extended trailer for Abrams's next film, in which Miquela could potentially star. Or could Brud be pursuing something more ambitious with Bad Robot's help? The start-up reportedly raised as much as $6 million from big-ticket investment firms like Sequoia Capital in a recent funding round. It's not a huge number, but enough to suggest that the faux hack isn't just some elaborate joke.
One tantalizing theory proffered by L.A. techies has it that Brud's plan is to move Miquela from Instagram to a Brud-built social network where anyone with an iPhone can create, dress, and promote his or her own personal CGI model. "Maybe it's more of a Bitmoji-style product," speculates Kyle Russell, a former deal partner at a Silicon Valley firm. "That said, we don't know enough about their tech to really say if they would be great at that. Also, I don't know if that would have been an appealing pitch to VCs. There's far more value in the distribution of a celebrity on these platforms without the cost of having to pay a [real-life] celebrity."
We're forced (or allowed) to indulge in all this mad speculation because the company that puts words into Miquela's Kylie Jenner full-lipped mouth mostly refuses to talk specs. In what's either a brilliant strategy to heighten the suspense or an annoying affectation — probably both — Brud only preaches grandiose ideas about fighting fake news with fake news, and using influencers to make the world a better place.
Even if there isn't a hidden endgame for Lil Miquela, she holds up a mirror to the ways in which technology has morphed our own constructions of self. We don't yet live in a world where realistic-looking fake humans roam the streets, but in the meantime, technology has transformed us into fake-looking real humans. Social-media personalities like the Kardashians alter their bodies and edit images of themselves so heavily that CGI characters somehow blend naturally into our feeds. Influencers, who were once a novelty in the industry for their unfiltered content, have also become burnished personal brands. Meanwhile, the average Instagram, Snapchat, or Weibo user has access to apps and filters that eliminate the need for makeup or plastic surgery altogether.
During a rare "phone interview" with YouTube conspiracy theorist Shane Dawson last year, Miquela deflected the question of whether her images are edited: "Can you name one person on Instagram who doesn't edit their photos?"
When Miquela first appeared on Instagram two years ago, her features were less idealized. Her skin was pale, her hair less styled. Now she looks like every other Instagram influencer. She'll rest her unsmiling face in her hands to convey nonchalance, or look away from the camera as though she's been caught in the act. The effect is twisted: Miquela seems more real by mimicking the body language that renders models less so.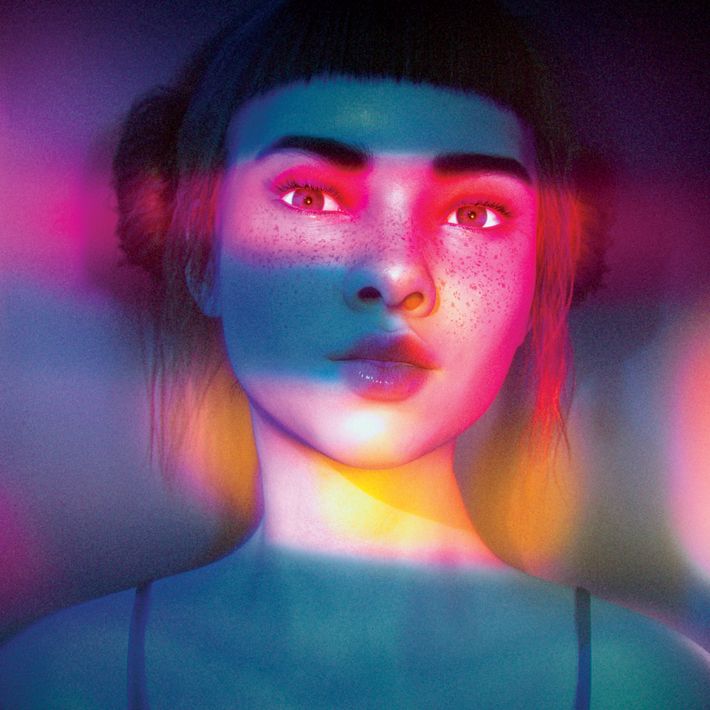 Miquela's outfits and poses aren't especially racy, yet she attracts the same fetishized gaze as anyone else selling her own image. "So beautiful," one guy wrote on a post where a bit of cleavage can be detected, adding drooling emoji. "@LilMiquela Ur so pretty," wrote a young woman on Twitter. "I wish I was that pretty." Others have even asked for her skin-care routine.
In this way, Miquela represents perhaps the pinnacle of unrealistic beauty standards. How can we compete with someone who never ages or gets hungry and who can be in ten different places at once? Could the result be that real-life models and influencers become obsolete, or will their likenesses be frozen in time and replicated ad infinitum? There's conjecture that Miquela is a mix of animation and photographs, of a female human. But the techniques used to create her are heavily guarded by Brud, and at least one influencer who posed chummily with Miquela told me she couldn't share details because was bound by an NDA.
Whatever Lil Miquela's secret sauce, similar technology is being used to make others like her. The most prominent is Shudu, created by the British former photographer Cameron-James Wilson. After a decade working in fashion, Wilson says he became "disenchanted" by the industry. "Nothing really represents reality," he laments. He's wearing heavy makeup, some of which has rubbed off on his black hoodie.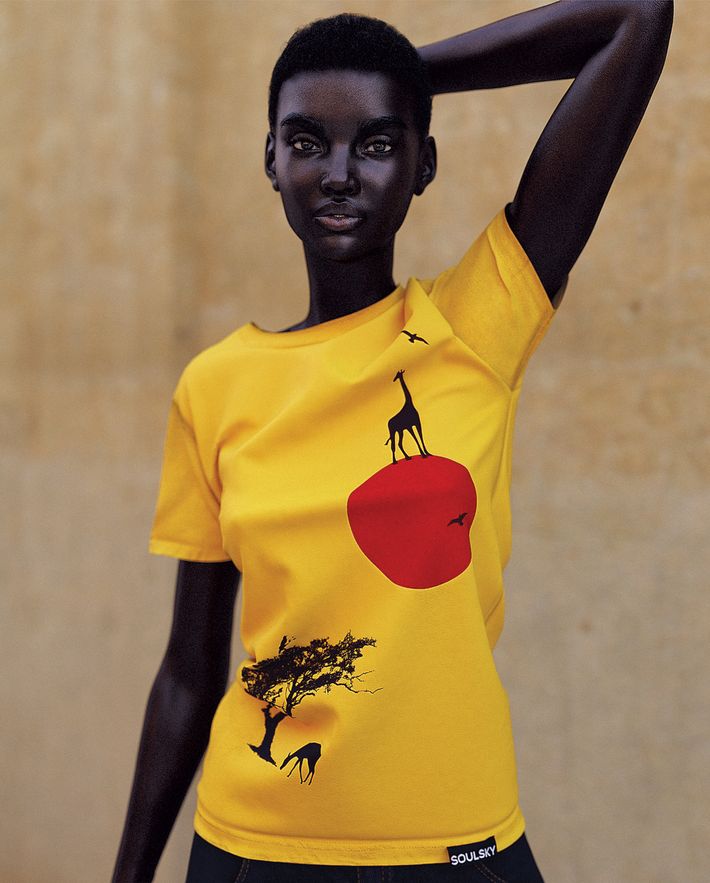 His experience Photoshopping real people to look fake informed how he makes his fake people look real, Wilson explains. "I always saw that peach fuzz was very distracting in a photo. So, the very first thing I thought when I was designing my character was that I needed to add peach fuzz." Wilson freely reveals that he uses 3-D-animation tools called Daz3D and Clo3D to make his muses, adding that he'd never mess with photography. That's "archaic," he says.
Peach fuzz notwithstanding, Shudu presents as a stunning black woman with flawless dark-brown skin. Her eyes, Wilson says, were inspired by the supermodel Iman and her overall look by Princess of South Africa Barbie, who favors gold choker necklaces that resemble those of the Ndebele people.
Thanks in part to a Fenty Beauty repost, Shudu has more than 100,000 followers. But because Wilson is a 28-year-old white man, his work has sparked as much controversy as admiration. "A white photographer figured out a way to profit off black women without ever having to pay one," wrote one Twitter user, picking up 52,000-plus likes. "Black models, specifically dark-skin black models are not a trend," wrote another. In a piece for The New Yorker, writer Lauren Michele Jackson said Wilson's work made her think of blackface minstrels.
"I just wanted a beautiful muse to come home to," Wilson protests. Yet now that he's in the thick of it, he believes Shudu has sparked an important conversation about representation, even if he has been misunderstood. "Shudu is a platform to showcase fashion designs from brands I feel share similar views to me in terms of top-down diversity," he says, adding that his work is about art and collaboration, not monetization. So far, he says, he's turned down paid partnership offers, and every brand he's promoted has a person of color or woman in a position of power.
Brud, too, has expressed altruistic goals, arguing that promoting diversity among robots will change the way humans treat each other. Miquela urges her followers to donate to Black Lives Matter and LGBTQ+ causes, and she sold a line of "Uncanny Valley Girl" merch to raise funds for victims of the California fires. McFedries, who is black — his co-founder Sara DeCou is Latina — has said that, like Wilson, Brud only accepted venture capital from firms with "a woman or person of color in a position to write them a check." The pair also issued a statement this spring comparing the impact they hope to have to Will & Grace: a seemingly frivolous media confection that had "real-life impact on marriage equality." As with all things Brud, it's hard to tell if they're trolling us with this reference or if they've been sipping too much of the Silicon Valley Kool-Aid.
The Federal Trade Commission requires influencers to disclose when they're paid to tout a product, and so far Lil Miquela hasn't done that. (Fashion-law expert Julie Zerbo says there's no reason that a CGI character's creators would be exempt from the FTC rules.) And in another of her "interviews," Miquela told the Business of Fashion in February that she hadn't earned a dime from any of her collaborations. She borrows or gets free swag from designers, she says, though that was before she promoted a series of gifs inspired by the Prada collection during Milan Fashion Week. (Prada declined to comment on whether Brud was paid.)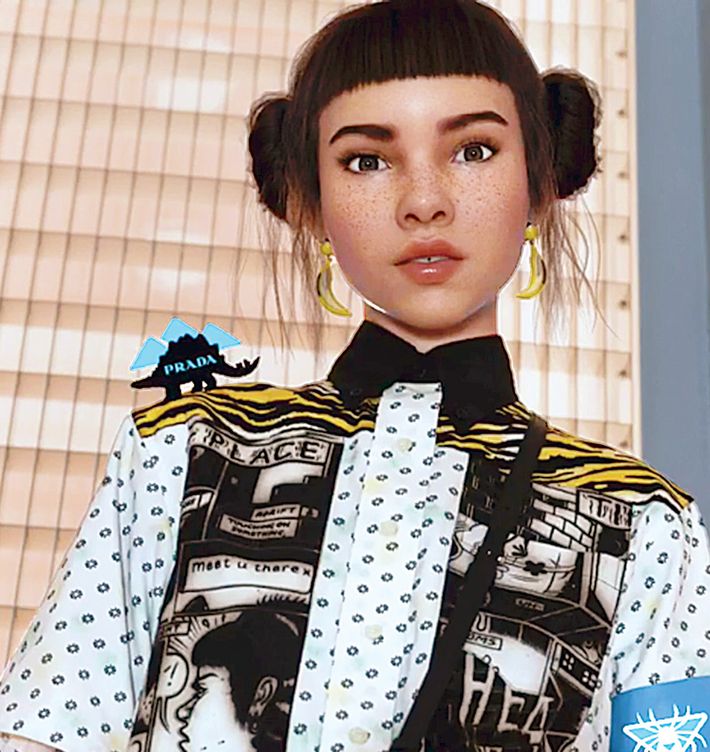 Which brings us back to the nagging question of what Brud's up to. One of the oddest strands of the whole story is why they chose a right-wing troll to out Miquela, ultimately painting themselves as the bad guys. Thinking hard about it — okay, maybe too hard — it occurs to me that the hack could have been a clever bit of jujitsu to build fans' trust in Lil Miquela. Because Brud "lied" to her about her origins, she could come clean about being computer-generated while seeming ever more sincere about her "woke" consciousness.
"I'm not sure I can comfortably identify as a woman of color," a recent Instagram post from Miquela said. " 'Brown' was a choice made by a corporation. 'Woman' was an option on a computer screen."
Post-hack, Miquela declared herself a "free agent" who'd no longer work with Brud. Support for her choice poured in, with Riley Keough, the actress and granddaughter of Elvis Presley, sending her a heart emoji and gossip blogger Perez Hilton calling her a "shero." Meanwhile, thousands of others didn't seem to care that she wasn't real. "I know this is crazy but I believe you," wrote one commenter. "Even though you are a robot physically, everything else is human."
Presumably, Miquela is still operated by Brud, even if the company is now focusing its promotional efforts on Blawko, her male equivalent with significantly fewer followers. The freedom she gained by admitting she wasn't real, though, is something a lot of us real-lifers wish for ourselves. We spend so much time pretending that hip parties and cool people are an organic part of our lives — that we aren't curating the narratives we put out in the world. What a perverse relief it would be to confess that everything is fake! It brings to mind the Buddhist doctrine of no-self, of how liberating it might be to recognize that there is no real "you" that must be clung to, that has to be propped up and defended.
Existential philosophizing aside, we continue to follow Lil Miquela and her cohorts — even if we know they're not real — because we're suckers for a good story. (You've made it this far.) It's possible that what you see is what you get with Brud. But maybe we hope that there will be a way one day to fully upload ourselves online, and let go. There is no grand plan; they're just a bunch of righteous millennials with a good idea and a genuine love of Will & Grace.
When I asked Nikola if she'd ever Miquela-ify herself, at first she said why not? It would be fun to wear clothes she couldn't afford; it wasn't so different from building a character of herself in the Sims. But then Nikola second-guessed her original answer. "You can get lost in that world so easily," she said. "It would be hard to stop."
*This article appears in the May 14, 2018, issue of New York Magazine. Subscribe Now!