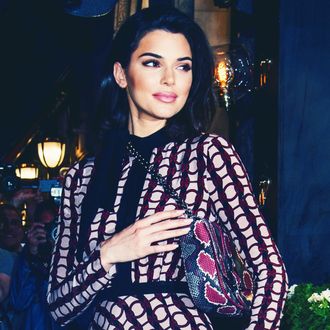 Kendall Jenner at the opening.
Photo: Mark Sagliocco/WireImage
Last night outside of Longchamp's brand new Fifth Avenue location, limos battled for space while a group of models, fashion industry types, and men in suits gathered around bistro-style tables, air-kissing friends and smoking lots of cigarettes. Some onlookers even stopped to snap a picture or two from outside the gates. If you didn't know it was the opening of the label's brand-new New York City flagship, you might think it was some kind of brasserie turned nightclub.
But that's the point: the French heritage brand wanted to create a buzzy, New York–meets-Paris vibe with its opening. In fact, Café de Longchamp, which was set up just for the occasion, will remain open through Saturday May 5. "When we opened our store two years on Champs-Élysées, we couldn't imagine the worldwide visibility it got," said Sophie Delafontaine, the brand's artistic director. "For us, Fifth Avenue is like this. There are only two streets in the world that are this iconic."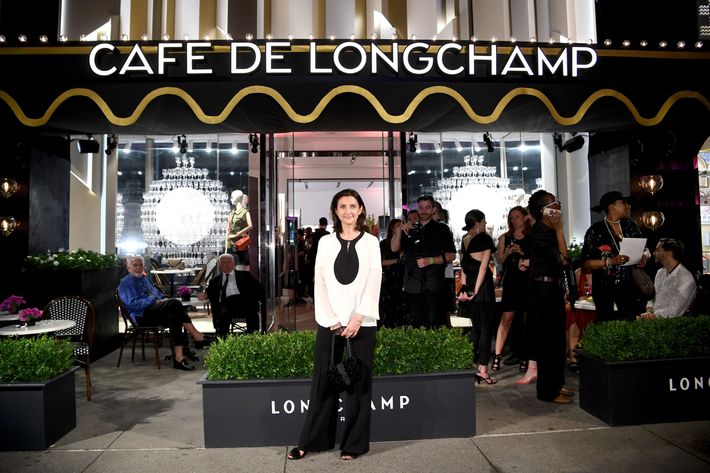 "We have a very large space that allows us to show all the categories," she said — for example, the brand just launched eyewear last year. "Longchamp is now a global brand and we needed to have space for the shoes, ready-to-wear, eyewear, men's, luggage and ladies' bags, of course." It also happens to be Longchamp's 70th anniversary.
During the opening party, the two-story boutique was so packed that guests almost had trouble moving. Champagne cocktails were being served on the first floor, where Kendall Jenner, the new face of the brand, posed for photos. Cara Delevingne and Paris Jackson were also there, mingling while Les Twins played a DJ set.
Leading downstairs, Longchamp commissioned the Venezuelan artist Carlos Cruz-Diez to create a massive, colorful piece of moving art. "Like the New York City skyline," Delafontaine explained. Guests were sketched by several illustrators, plied with a Parisian dessert bar, and treated to a spin-the-wheel game that offered everything from bag tassels to the signature Longchamp tote as prizes.
The new store was also fully stocked on the new Longchamp by Shayne Oliver collaboration, which Delafontaine says was timed to the opening of the new flagship and the Shayne Oliver pop-up at its Soho store. "We're a very Parisian brand and the idea was to mix the universe with a New York designer who could really express this cool New York attitude," she said.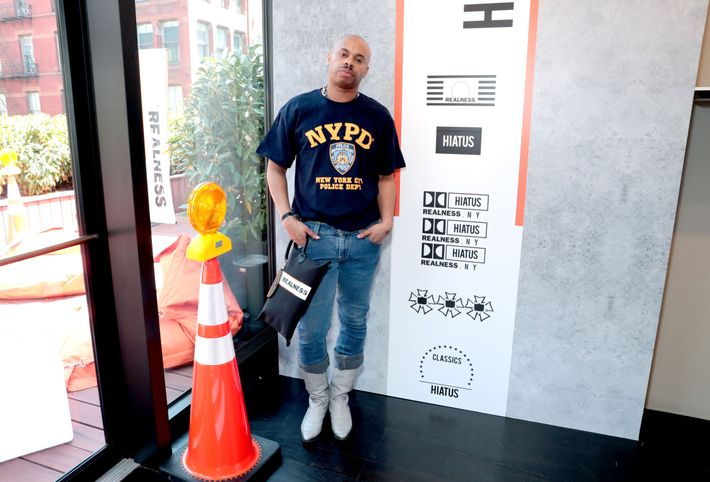 "Longchamp is such a pop culture moment," said Oliver. "So I made it accessible. I just thought it was really kinky that I'd do something for this brand." The products range from two classic totes doubled up as one bag to a T-shirt with the iconic Longchamp handle on the back of the neckline, and even a jacket inspired by the Longchamp bag — and they definitely stood out against the traditional offerings in the new, bustling boutique.
"Instead of having one Longchamp," said Oliver, referring to his new double-bag creation, "why wouldn't I have two?"
Longchamp is now open on 645 Fifth Avenue, New York, NY.