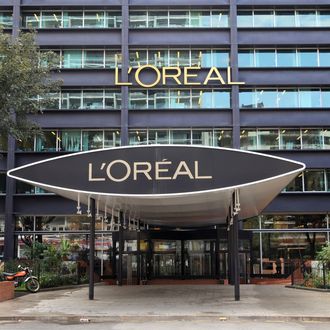 Photo: Aurore Marechal/AFP/Getty Images
While you were barbecuing and trying to sunbathe on this rainy Memorial Day weekend, L'Oréal was making major money moves and buying up hair color line Pulp Riot and the Valentino fine fragrance and luxury beauty license. Today, L'Oréal and Valentino released a joint announcement that the agreement will go into effect starting on January 1, 2019. L'Oréal will take over the license (which is currently with Spain's Puig and expires in December this year), and will try to usher in products that appeal to younger generations.
"With its unique combination of prestige and modernity, Valentino definitely will appeal to millennial consumers around the globe and ideally compliments our brand portfolio," said Nicolas Hieronimus, deputy chief executive officer at L'Oréal.
Valentino will join fragrances from Yves Saint Laurent, Maison Margiela, and Giorgio Armani in L'Oréal's Luxe Division. According to the press release, all new products will be distributed under the Valentino name. Valentino CEO Stefano Sassi said the new business deal will help Valentino expand their beauty offerings. "We believe Valentino has great potential within the category and that with L'Oréal's unparalleled expertise in the sector, we will be able to realize that potential," Sassi said.
The Valentino license will bring L'Oréal one step closer to cosmetics group competitor Coty, which has licenses for Gucci, Hugo Boss, and Dolce & Gabbana.