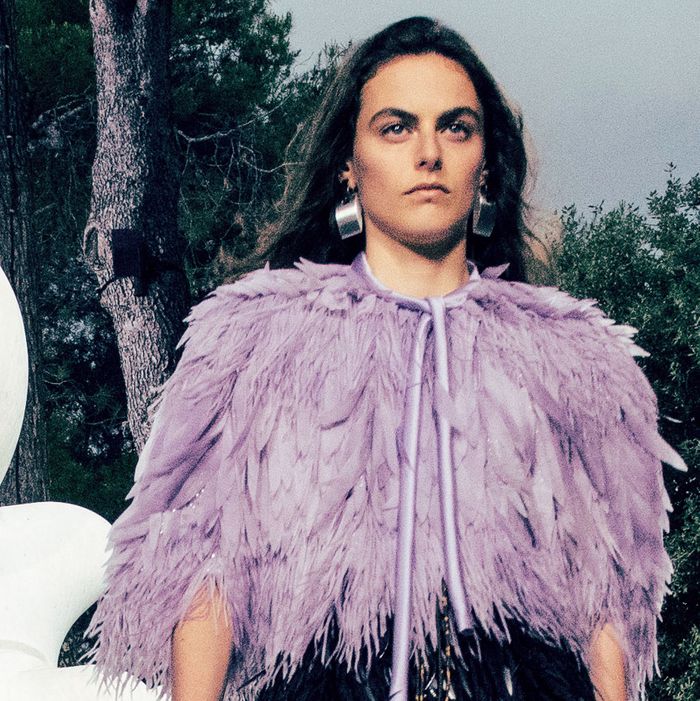 A model during the Louis Vuitton cruise 2019 show.
Photo: Peter White / Contributor/2018 Peter White
It's no secret that former Vogue editor Grace Coddington is the ultimate cat lady. But now, her love for her fluffy kitties is immortalized in a Louis Vuitton collection, revealed at the cruise 2019 show yesterday in the village of Saint-Paul-de-Vence in France. Coddington's sketches of her cats were turned into bags and appliqués on LV-printed pajamas, which Coddington wore to the event. The editor's capsule collection for Louis Vuitton will drop in October and will likely sell out fast.

Coddington said she hopes the collection will be a dream come true for her cats, Pumpkin and Blanket, as well as Louis Vuitton designer Nicolas Ghesquière's dog.
Outside of the upcoming collab, the show was an homage, of sorts, to the editor. More than one model — including the opener — had similar fiery manes of red hair. French artist Woodkid created a soundtrack that incorporated actress Jennifer Connelly reading passages of Coddington's memoir. However, the inspiration ended at the clothes, since Coddington famously wears mostly black.
Ghesquière chose the foundation of famous French art collectors Marguerite and Aimé Maeght as the location for the runway show. Models navigated through a Joan Miró sculpture on a hilltop in a scenic French village, wearing billowing tops, tall sneaker-boots, and cowboy hats. Some wore long, billowing white dresses while others donned strong shoulders in reworked suiting materials. The result was an eclectic, artistic look mirroring the location. It helped that more than one model wore red forehead makeup, which added to the eclecticism.
After the show, front-row guests like Justin Theroux, Emma Stone, and Laura Harrier joined models and editors at an after-party, despite the pouring rain. DJ Mark Ronson played while the guests enjoyed a raw bar, risotto, and men dressed as lifeguards at the Hotel du Cap. It doesn't get more idyllically French Riviera than that.