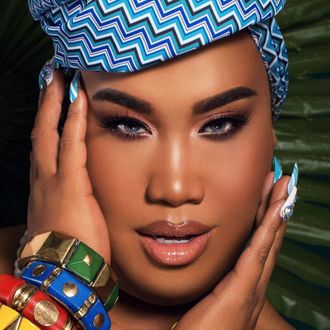 Summer is coming and it's about to be hotter than a fever, just in time for M.A.C Cosmetics' and Patrick Starrr's upcoming collaboration. At this point, the beauty vlogger is a pro — he's collaborated with the brand multiple times in the past year so he knows exactly what makeup you'll want to wear when the weather gets hot. The new Diva Feva collection includes a modest five products, but you probably don't really need any more than that when it's hot out.
Like Starrr's last Floral Realness collection, this one includes four pigmented and blend-able eye shadows. The shades in the peachy neutral Heat Stroke quad are intriguingly and freely named: Sandy Crotch (pearly orange), Brash (pinkish brick), Mabuhay (peachy brown), and Ruddy (golden red). Yes, you read that right — your eyes can be full of Ruddy, Sandy Crotch this summer.
For the face, Starr made an opalescent face powder called Hot and Heavy, which is a neutral tan shade with gold shimmer that can be used all over for a golden finish similar to M.A.C's Skin Finish. Hot and Heavy could also be used as a subtle highlighter or built up for a more substantial glow. There's also a bronzer compact called Give Me Life and the shade is a soft, matte golden bronze that can be used all over or just as a contour. To top everything off, M.A.C and Starrr bottled up two lip glosses in a pale peach shade (Fashion Punch) and a neutral pink (Cream Pie) — both would look best on medium to light skin tones.
The Diva Feva collection drops online on June 4 and in M.A.C stores on June 7.