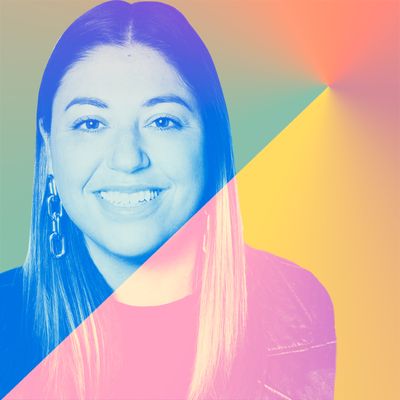 Growing up in Manhattan, Nata Dvir's grandmother would take her and her sister to the Macy's Thanksgiving Day Parade every year.
"It was all about the balloons for me," she remembers. "I'm obsessed with anything Muppets, so the Kermit and Miss Piggy ones were always my favorites."
A few months after graduating from Syracuse University with a degree in communications, there she was, in the parade as an official balloon handler. "My friends and I were put on Shrek duty," she remembers. "You don't get to pick your balloon when you're a rookie. That's an honor you have to earn over time."
Dvir had not intended on working at the legendary department store. Having set her sights on law school, she planned to travel for a year before attending, but then a friend's mother intervened.
"She started telling me about Macy's training program, explaining that it was the best introduction to corporate America," explains Dvir.
See ya, law school. Thirteen years later, Dvir is now general business manager of Macy's beauty, having worked her way up the retail ladder in women's shoes, jewelry and, most recently, the men's department.
"I was in men's for eight years!" she laughs. "I deserve this!"
Dvir never considered herself much of a beauty fanatic, but when one is surrounded by lipsticks, mascaras, fragrances and skin serums day in, day out, one does tend to succumb (this writer can attest firsthand). Now, with two years of beauty under her belt, she is an admitted zealot.
"My skin-care routine used to consist of not much more than Cetaphil," she says. "Now I'm spending 45 minutes on my face before I go to bed. I'm really into it. Everyone asks me what they should be using on their skin without sharing what their skin's actual issues are! But I try a lot of products, so I'm able to share."
Dvir spoke with the Cut about her serious Chanel block heel slingbacks habit, how she can never resist a costumed puppy, and how the film The Holiday puts her to sleep (It's a compliment! Really!)
Cleanser: Daytime: Mario Badescu Enzyme Cleansing Gel. Night: Eve Lom Cleanser with muslin cloths, then Biologique Recherche P50 1970 before my skin care.
Scent: Les Exclusifs de Chanel Eau de Cologne.
Shampoo/conditioner: Oribe Gold Lust.
Hair styling product: For waves, Oribe Matte Waves and Sachajuan Ocean Mist. For straight hair, Oribe Gold Lust Oil. For second day hair, R+CO Death Valley.
Toothpaste: Aquafresh Extreme Clean.
Toothbrush: Quip in copper.
Shoe: Chanel block-heel silver-toe slingbacks. And lots of sneakers.
Watch: The Apple watch. It keeps me honest with my time and the number of steps I take each day.
Lipstick: I can't name a favorite, but it's usually nude.
Jeans: Madewell.
What do you do or take when you can't sleep? I watch The Holiday for the millionth time.
Favorite smell in general? Fresh mint.
Smell you absolutely hate? Rose.
Comfort food? Penne Arrabbiata with lots of Parmesan cheese.
Comfort music? Paul Simon's Graceland.
Most recently binged TV show? Stranger Things 2.
What fashion look do you struggle with achieving? Anything super girly.
Style icon? Giovanna Battaglia.
Work icon? Diane von Furstenberg.
What name did you wish you had as a kid? Zoe. No clue why, but I hated my name. Now I love it.
What item stresses you out if you're running low on it? Phone battery.
What drives you crazy? Loud typing on computers.
What is always in your fridge? Lemons.
What do you splurge on? Uber.
What technology or app do you rely on most? Microsoft One Note.
Favorite Instagram: Can I use a hashtag? #macysbeauty. All of our beauty advisers use it, so it gives me a peek into what's happening in our stores. But if I have to give a handle, I'd say @halfbakedharvest has really good recipes.
What or who makes you laugh? Puppies in costumes running around.
What product in your domain is misunderstood and should be a best seller? Setting spray. I only just started using one and I totally get it now.
What do you foresee as the top beauty trends in 2018? Fragrances! People wanting to explore and experiment with new scents that evoke emotion and bring back happy memories.
What do you wish you had invented? PopSockets.
Favorite spot in the entire world? Morocco.
If you won the Power Ball tomorrow, what are the first five things you would do? (after, of course, donating the majority of it to your top charities…) Since I would keep working, I would spend it on some daily conveniences: like hiring a car and driver, and getting a blow out every morning. Then, I would save the rest to start a new business when I have my next great idea!