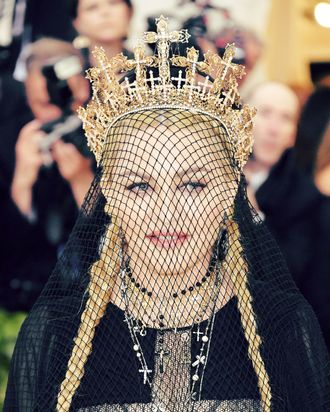 Madonna.
Photo: Neilson Barnard/2018 Getty Images
Madonna (the secular one) arrived at the Met Gala in a golden crown made of crosses, a black veil, and a gown by Jean Paul Gaultier. While she looked gorgeous, she wasn't the showstopper of the red carpet — that honor went to Rihanna (and/or Frances McDormand). But you didn't think she of the burning crosses would let the Catholicism-themed Met Gala get away from her, did you?
No, she didn't. Madonna managed to get her time in the spotlight when she gave a surprise performance. She entered the Great Hall in a giant cloak and proceeded to sing "Like a Prayer." Instead of an upbeat gospel choir, she used Gregorian chants as background music. Several female dancers complemented the medley.
Halfway through, Madonan changed from her monastic garb into an angelic white dress for her emotional rendition of "Hallelujah." Watch her performance here, from Vogue.