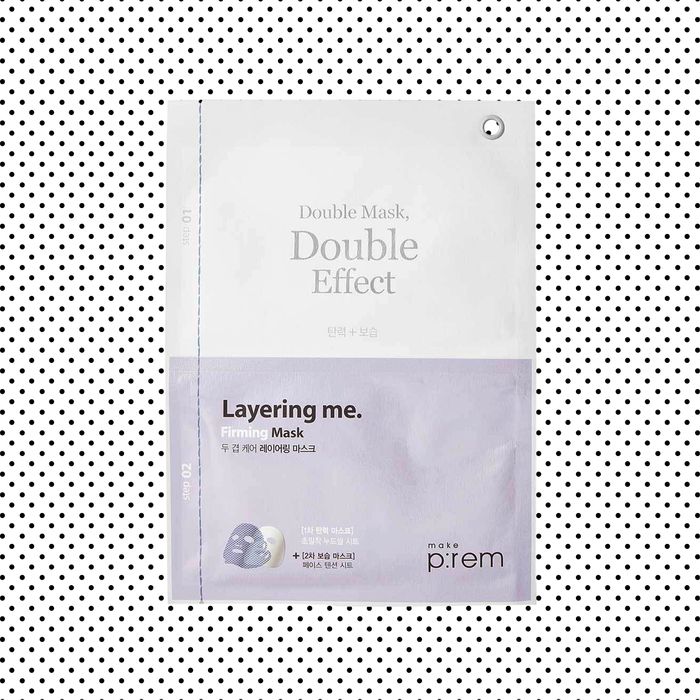 Make P:rem Soothing Layering Double Mask
Sheet masks have taken a lot of sheet this week. Noted cosmetic cop Paula Begoun declared them to be "just unnecessary." "A lot of people do things that are a waste of time," she said, negging on their dermatologically touted occlusive benefits.
Paula, I love you and your no-BS attitude, and I agree that "natural" beauty lines are part scaremongering. I tell people all the time that your Skin Perfector is a wonderful dupe to P-50, but please, let me have sheet masks. I want to believe! I want to believe that a sheet mask a day can keep me smooth-skinned if I worship like Michelle Yeoh. Give me the blue pill of feeling like it's worth it to look creepy while moisturizing!
The sheet mask that makes me want to keep the sheet-mask faith is from Korean brand Make P:rem. I used it recently on a long-haul plane ride to Tokyo and was so excited by how good it was that I texted four friends immediately upon landing that they had to try out this mask. Make P:rem operates using a Double Stuf Oreo concept — if a little is good, a lot is better. Instead of one sheet mask, each package contains two — one that you put on right over the other.
The first sheet mask is made of a slightly thinner, more stretchy material. The second is a little thicker, and a tad less drippy. Putting on the first one already feels pretty great — it's cooling, moist, and a little viscous-feeling without feeling slimy, and a little looser around the eyes and mouth. The second one is slightly more weighty and comes with ear flaps (don't worry, these stretch so your ears aren't bent at a right angle). When I unwrapped the second mask and put it on, I thought, I can't believe I'm doing this crazy nonsense.
But I get it! The tightness of the second mask kind of works the way a fancy panini press does — it feels like it's sealing and pressing all of its goodness into the skin. The ear flaps don't do much in terms of moisturizing your ears (thank goodness, because who wants a wet earlobe), but they ensure that the mask is unflappable and secure and not sliding down your neck. When I un-mummied myself later, even in the stale plane air, my skin felt cool and soft to the touch, without feeling sticky or tacky.
Christine Chang and Sarah Lee, Glow Recipe's co-founders, tell me that because of the doubling-up method you can leave the mask on for up to two hours. Maybe it was the plane air, but I felt like it was starting to dry out at around the 40-minute mark. That's still double the typical masking time, which is a suggested 15–20 minutes. The mask is so popular that it's often sold out, but it's back now. It turns out two sheet masks are better than one — at least in the matrix of skin-care truths I want to believe.
If you buy something through our links, New York may earn an affiliate commission.