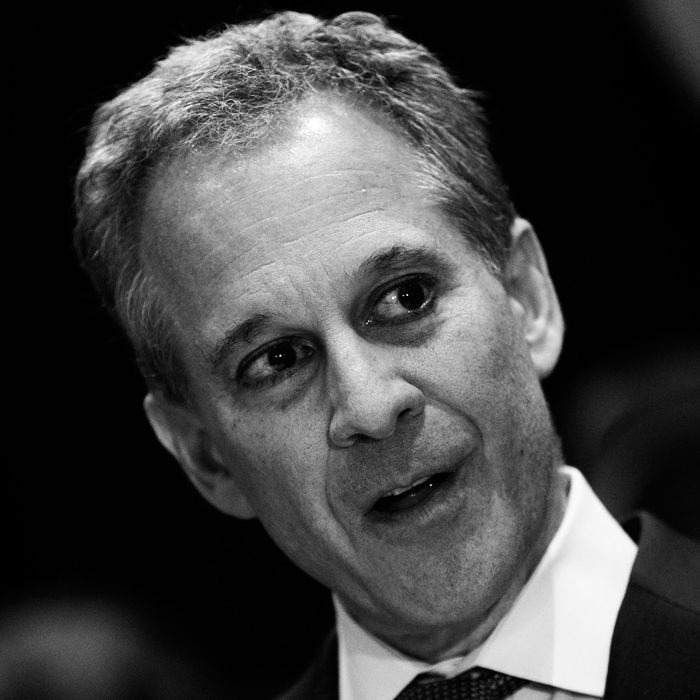 Eric Schneiderman.
Photo: Drew Angerer/Getty Images
On Monday, four women accused New York attorney general Eric Schneiderman of horrific physical abuse and intimidation in a new report from The New Yorker — prompting Schneiderman to resign only hours later. In a statement later that night, the Manhattan attorney general's office announced it was launching a criminal investigation into the allegations against Schneiderman.
In the bombshell New Yorker report, four women — including three who had romantic relationships with Schneiderman and one who rejected his advances — accused the now-former attorney general of choking and slapping them, and also of engaging in threatening, controlling, and demeaning behavior. Two also alleged Schneiderman threatened to kill them if they broke up with him, and one said he warned that he could tap her phone and have her followed.
Announcing his resignation, Schneiderman said in a Monday night statement, "In the last several hours, serious allegations, which I strongly contest, have been made against me. While these allegations are unrelated to my professional conduct or the operations of the office, they will effectively prevent me from leading the office's work at this critical time."
Also on Monday night, Danny Frost, a spokesman for Manhattan district attorney Cyrus R. Vance Jr., said in a statement, "Our office has opened an investigation into the recently reported allegations concerning Mr. Schneiderman." The announcement after Governor Andrew Cuomo directed Schneiderman to investigate Vance's office in March for its alleged mishandling of a 2015 investigation into sexual-assault allegations against Harvey Weinstein.