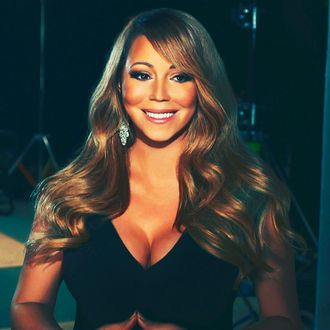 Mariah Carey.
Photo: Handout/Getty Images
Congratulations are in order for Mariah Carey, who bravely parted ways with a diamond for what has to be the first time in her 48 years on this planet. According to "Page Six", the singer recently had one of her business managers sell her massive rock from her billionaire ex-fiancé James Packer, and Carey got back millions.
In January 2016, Packer got down on knee and slid an ostentatious 35-carat Wilfredo Rosado–designed ring onto Carey's finger, which she reportedly kept as part of the multimillion-dollar settlement she reached with Packer following their split in October 2016. But apparently, she didn't negotiate to keep the ring for sentimental reasons. She just wanted some cash.
While the ring was reportedly worth $10 million, a source told "Page Six" that Carey sold it to a Los Angeles jeweler for $2.1 million — a deal that Carey's team wants to keep under wraps. According to the source, the jeweler had to sign a confidentiality agreement, but Carey's publicist didn't outright deny the sale when contacted by "Page Six."
"Mariah has been very vocal recently about her choice to move forward in her life surrounded by positivity," her publicist told "Page Six." "That requires leaving emotional and material baggage behind, including an old engagement ring from an ex-boyfriend."
Regardless of your thoughts on the diamond industry and the immense amount of wealth Carey has accumulated, one point is undeniable: She is good at breakups.