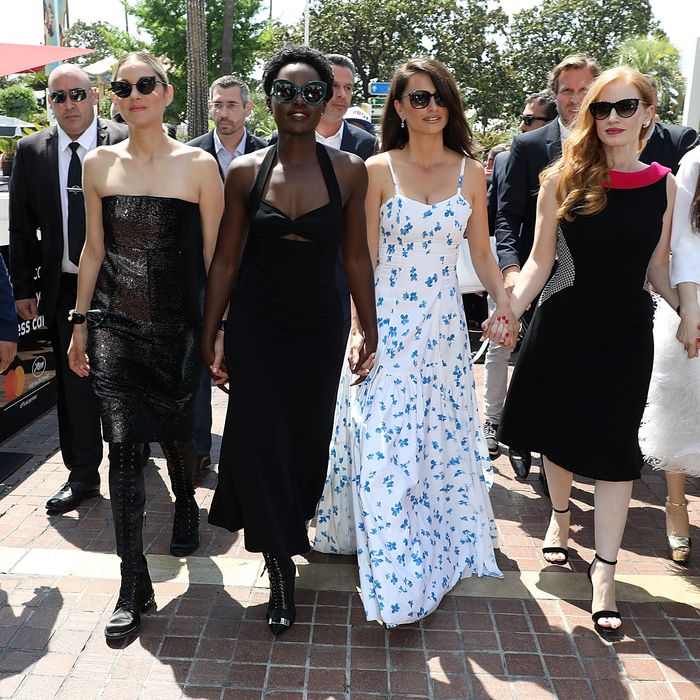 From left, Marion Cotillard, Lupita Nyong'o, Penélope Cruz, Jessica Chastain, and Fan Bingbing.
Photo: Pierre Suu/GC Images
I'm not sure if you remember yesterday. Do you? It was a Wednesday, if that helps. You were one day further away from the weekend, but also one day further away from death. Is that ringing a bell? Wednesday? In any case, yesterday we discussed how you can (Cannes) — and I'm whispering now — probably take a selfie on the Cannes red carpet if you want to, and it's fine. Well, today I have more Cannes drama for you, are you ready?
Marion Cotillard wore flats …
… on the red carpet!
Oh my god. I know what you're thinking. "Marion Cotillard? The same Marion Cotillard who once said of the September 11th attacks, 'I think we're lied to about a number of things. We see other towers of the same kind being hit by planes. Are they burned? There was a tower, I believe it was in Spain, which burnt for 24 hours. It never collapsed. None of these towers collapsed. And there [in New York], in a few minutes, the whole thing collapsed.'"
Yes! That Marion Cotillard!
She appeared on the red carpet to promote her upcoming spy thriller 355, a film that also features Jessica Chastain, Penelope Cruz, and Lupita Nyong'o. On her feet? Not heels as Cannes demands, and famously demanded in 2015. (In that drama, women were turned away for wearing flats to the world premiere of Carol. The festival confirmed to ScreenDaily "that it is obligatory for all women to wear high-heels to red-carpet screenings.") (Julia Roberts broke this rule in 2016.) (And Kristen Stewart was upset about it in 2017, but still wore heels.)
Instead of heels, Cotillard wore a pair of Nicholas Kirkwood lace-up flat boots.
Incredible.
Heels on the red carpet? Just another Cannes "rule" that you not only Cannes break, but that you should.