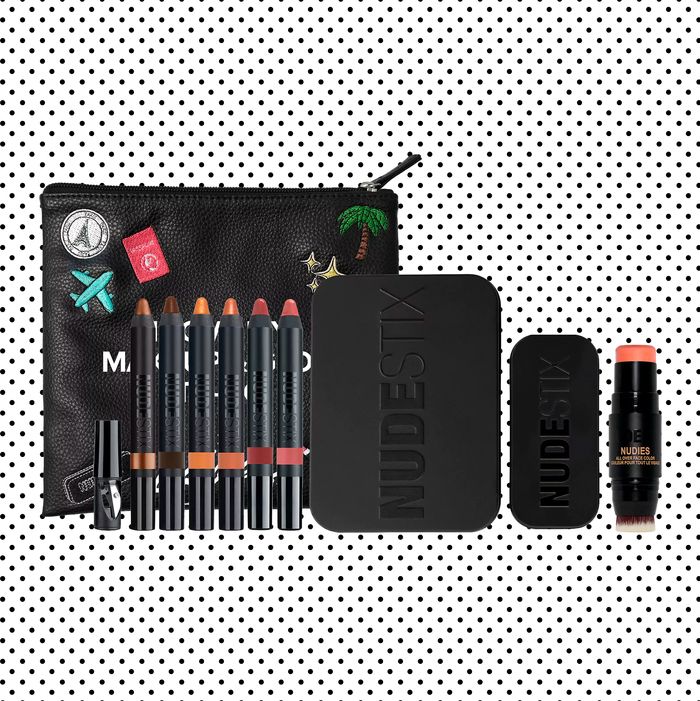 Ah, jet setting: it's a life many of us dream to have but rarely do. But even if your version of it involves a red-eye on Spirit Air or a personal pod on Emirates, Nudestix and celebrity makeup artist Mary Phillips curated a full-face makeup Jetsetter Palette that will make it really easy to do your makeup on the go.
While it's called a palette, the limited-edition Jetsetter collection is more like a kit that includes nine products that come in a cosmetic pouch autographed by Phillips, who's worked with Jennifer Lopez, Bella Hadid, Emily Ratajkowski, and Chrissy Teigen. Inside the pouch, Phillips included seven of her favorite Nudestix products.
There are four matte and metallic eye pencils in shades: Immortal (bronze shimmer), Copper Foil (shimmery copper), Rustique (golden terra-cotta), and Cocoa (deep chocolate brown). There's also an all-over stick in a warm tan nude shade and a gel lip and cheek balm in Pulse (glossy plum rose) and Posh (cool toned brownish coral).
For convenience, the sticks come with a jumbo pencil sharpener, and the all-over stick has a brush on the other end. The kit comes in a tin with a mirror, and it holds all of the sticks in place so they don't roll around.
Even if jet setting isn't your thing right now, the palette can obviously be used on land, in a car, maybe a subway if it's not very crowded and you're skilled, and anywhere else you need to add a touch up and get the job done without making a mess.
The Jetsetter Palette is available at Sephora and on Nudestix's website, and it's already starting to sell out.
If you buy something through our links, New York may earn an affiliate commission.