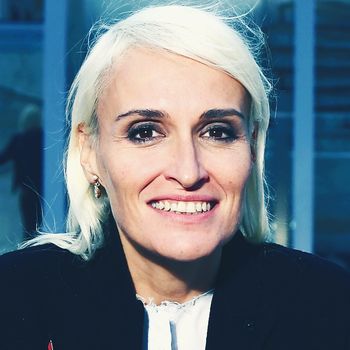 Mathilde Laurent.
Photo: Pascal Le Segretain/Getty Images for Cartier
Before Mathilde Laurent became Cartier's first female in-house perfumer and creative director, she was a teen photographer on the rise. She only entertained the idea of perfumery because her friends had suggested that she'd be good at that, too. By age 22, Laurent had to choose one of her two passions in order to continue her course of study. By then, the answer was obvious: she was born to be a "nose."
At Cartier, Laurent has created some of the house's most iconic scents, including "La Panthère" and its subsequent derivatives (La Panthère Édition Soir and La Panthère Noir Absolu). Before joining Cartier 12 years ago, Laurent developed fragrances for Guerlain, including an updated rendition of the cult scent, "Shalimar." Now she's the cool, platinum-blonde wunderkind at Cartier. Below, the Cut asked Laurent a few rapid-fire questions:
How do you thank people for a gift?
With a hug.
Color or no color on your nails?
No color.
Favorite coffee table book?
The last David Lynch book.
Heels or flats?
Converse. I have about 20 of them.
What would you never wear?
A skirt.
Guilty pleasure?
Tea, coffee, and chocolate. My favorite tea is a Korean black tea called Jukro that I would kill for. Kenyan coffee is the best because it's very acidic and fruity.
If you could live in another decade, which decade would you choose?
Right before the French revolution, but only if I could live in Versailles.
The secret to throwing a great party?
Really good friends, really good music, and really good wine.
Favorite pair of jeans?
Levi's boyfriend jeans.
Candle?
Christian Tortu candles and Diptyque's Feu de bois.
Flower?
Ones that you might not pay attention to in nature, like lily of the valley, tulips, and peonies.
If you buy something through our links, New York may earn an affiliate commission.