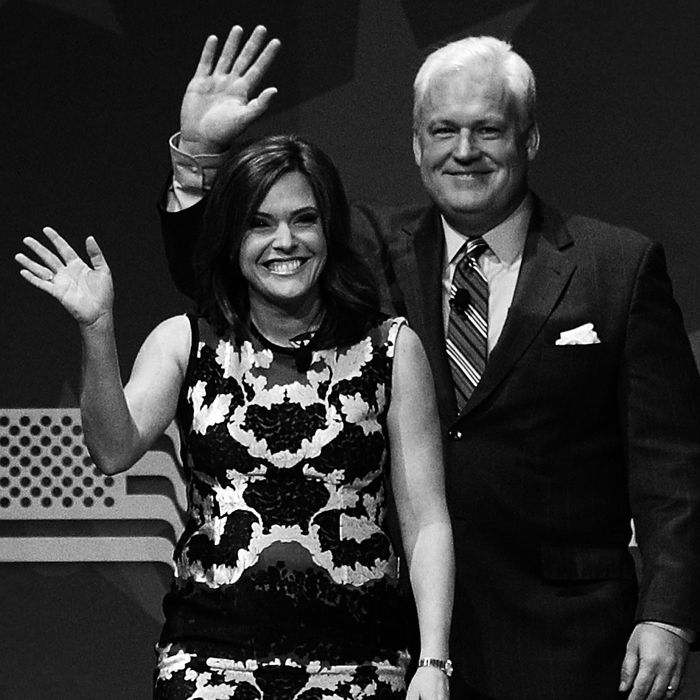 Mercedes and Matt Schlapp.
Photo: Alex Wong/Getty Images
As we enter the third day of the news cycle on this year's White House Correspondents' Dinner — which is surely proof of a cruel and unforgiving God — let's take a closer look at some of the bit players involved. Specifically, Matt and Mercedes Schlapp, the couple who made a big public performance out of walking out of comedian Michelle Wolf's monologue.
"My wife @mercedesschlapp and I walked out early from the wh correspondents dinner. Enough of elites mocking all of us," Matt, the chairman of American Conservative Union, tweeted that night. "It's why America hates the out of touch leftist media elite," his wife Mercedes, the White House Director of Strategic Communications, added. (They were then seen at the MSNBC/NBC after-party.)
Fun fact about these two ordinary working-class victims of the whims of the one percent: they just bought a $3 million home in Alexandria, Virginia, "to go with their weekend retreat" farm. They also made $1 million last year just from Cove Strategies, the lobbying firm they founded in the aughts. When questioned about his own wealth, Matt said, "I mean, I'm not trying to act like I'm driving a garbage truck in Des Moines."
This comes from a New York Times profile on the Schlapps that calls them "Washington's Trump-Era 'It Couple.'" In March, Politico called them "Trump's new power couple," while the Washington Post explained how they "became the cool kids of Trumpism."
Help.