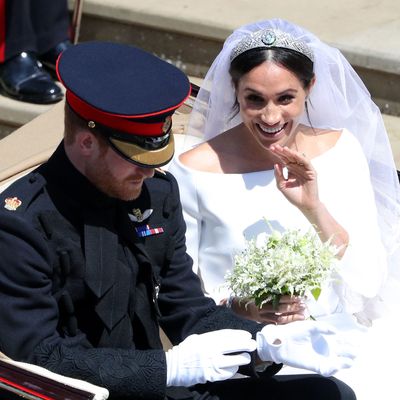 Prince Harry and Meghan Markle.
Photo: Andrew Matthews/AFP/Getty Images
Months before the royal wedding, British tabloids were speculating that Prince Harry and Meghan Markle would likely honeymoon in Namibia, Africa, but mere days after the ceremony, E! News refuted the rumor. So does anyone know where the couple is going?
Royal expert Omid Scobie told Elle that he personally thinks the couple will still head to Africa, as it's "the one side of the world where Harry says he feels like he can be himself."
"He has laid roots there and has a huge amount of love and respect for the African continent," Scobie said. "The couple have been keen to explore other countries in Africa, and I'm certain we will see them do that on this honeymoon."
But in a report about Prince Harry and Meghan Markle's prospective trip to the beachside town of Noosa in Queensland, Australia — that apparently would not be a part of their honeymoon — The Sun speculates that the couple is honeymooning in Botswana and Hawaii, and that they have plans to enjoy a "mini-moon" in Ireland.
In their defense, the royal couple has good reason to keep their honeymoon location under wraps. Scobie told Elle that once media catches wind of a royal honeymoon destination, the couple is told to pick out a new secret spot.
"The honeymoon destination has changed a few times since they started planning," Scobie said. "If a location leaks prior to travel, it compromises their safety on the trip, and they'll be advised by their protection team to change plans."