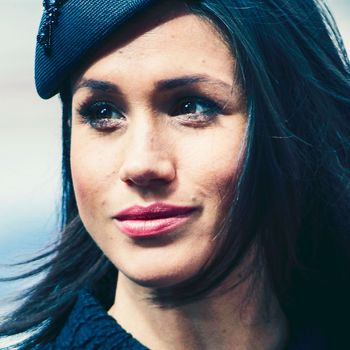 Meghan Markle.
Photo: Mark Cuthbert/UK Press via Getty Images
After two days of "will he or won't he," Meghan Markle's father Thomas Markle Sr. told TMZ on Tuesday evening that he actually won't be going to her royal wedding to Prince Harry after all.
This drama has been impossible to keep straight. First, Kensington Palace announced that Thomas would be walking Meghan down the aisle. Then, just a few days ago, we learned that Thomas staged those amazing wedding prep pictures for the paparazzi. And then, her dad said he won't attend the royal wedding — because he doesn't want to embarrass Meghan and, oh yeah, also he had a freaking heart attack.
And then — yes, another then! — earlier on Tuesday, Thomas told TMZ that he might actually attend the wedding after all. Thennnnnnnnnn, on Tuesday evening, Thomas said he can't attend — because he needs to have heart surgery.
According to TMZ, Meghan had sent Thomas texts saying she loved him and hoped he'd change his mind about not attending. That is apparently what sparked Thomas's change of mind about skipping the nuptials to begin with. But now, he said his doctors have advised against traveling from Mexico to Great Britain. Per TMZ:
Thomas tells TMZ, he will go into surgery at 7:30 AM Wednesday. He tells us, "They [doctors] will go in and clear blockage, repair damage and put a stent where it is needed."
By the way, Thomas also told TMZ that he believes the open letter his son Thomas Markle Jr. — Meghan's half-brother — wrote encouraging Prince Harry to not marry Meghan is what triggered his heart attack in the first place. I can't keep up!!!! But I do wish Thomas all the best with his surgery and recovery, and I hope Meghan is doing okay.