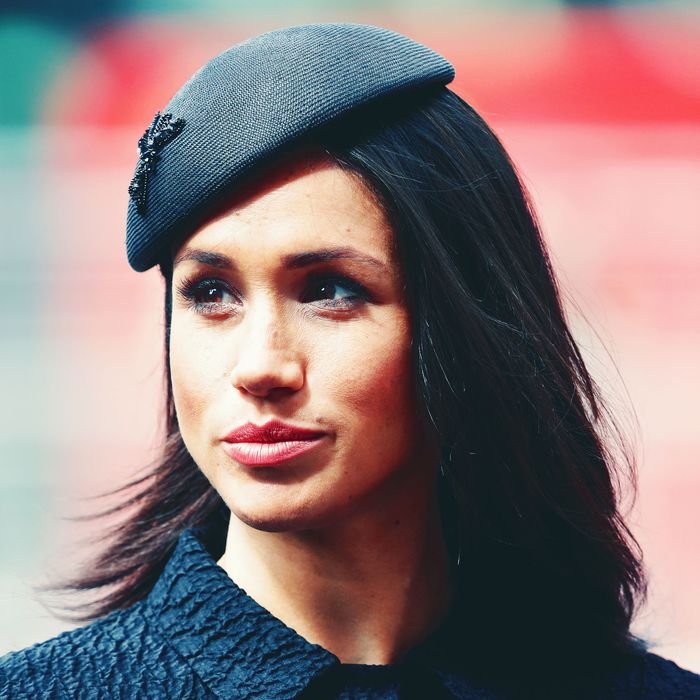 Meghan Markle.
Photo: Max Mumby/Indigo/Getty Images
Over the weekend, it was revealed that Meghan Markle's dad, Thomas Markle Sr., staged paparazzi pictures of himself prepping for his daughter's upcoming May 19 royal wedding to Prince Harry. Now, Thomas has reportedly told TMZ that he will no longer be attending the wedding.
There had been some question as to whether Thomas would even be invited to the royal wedding in the first place. It's widely known that Meghan is quite close with her mother, Doria Ragland, and that she had long been "estranged" from her dad. On top of that, he's also the father of two of her half-siblings who can't stop blabbing to the press. Yet, Kensington Palace recently announced that Thomas would be walking Meghan down the aisle.
But on Saturday, the Daily Mail revealed that Thomas had apparently set up a number of photo shoots with a paparazzi agency — and that he received payment for the pictures. The (truly amazing) photos included shots of him looking up pics of the couple on a computer at an internet café, being fitted (outdoors) for a suit for the wedding, and reading a picture book about the U.K. at a Starbucks.
On Monday, TMZ reported that Thomas said he staged the photographs after having being ambushed by paparazzi over the last year. Apparently, several unflattering pictures — of him buying beer and looking disheveled — had been published during that time, he reportedly said. Per TMZ:
He says since his daughter started dating Prince Harry he's been offered anywhere between $50,000 and $100k for interviews and he's turned all of them down. Thomas says the paparazzi agency approached him, offered him money — though nowhere near the reported $100k — and he figured there was no harm in it and it would help recast his image. 
Thomas also told TMZ that he had suffered a heart attack six days ago. He apparently checked himself out of the hospital so that he could attend Meghan's wedding, but he's now decided to back out "because he doesn't want to embarrass the royal family or his daughter."
Kensington Palace later released a statement following the news that Thomas Markle Sr. won't be attending the wedding: "This is a deeply personal moment for Ms. Markle in the days before her wedding. She and Prince Harry ask again for understanding and respect to be extended to Mr. Markle in this difficult situation."
This post has been updated to include the statement from Kensington Palace.