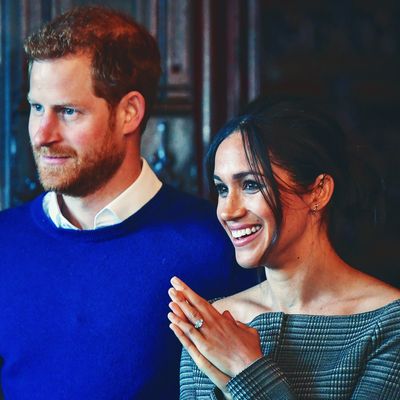 Prince Harry and Meghan Markle.
Photo: BEN BIRCHALL/AFP/Getty Images
Since announcing their engagement in November, messy-bun advocate Meghan Markle and royal ginger Prince Harry have stayed mum about the identity of their secret matchmaker — you know, the mutual friend who apparently set them up on that fateful blind date. But now, E! has revealed the identity of the matchmaker in question: London-based Ralph Lauren PR director Violet von Westenholz.
According to E!, von Westenholz's dad is a baron (naturally) and she's been a member of the prince's "trusted inner circle of friends for years." Prince Harry apparently confided in von Westenholz about his dating woes: A "well-placed source" told E!, "He can hardly go on Tinder or a dating app like normal people, but to meet someone that you actually connect with, that was proving to be almost impossible."
But luckily, von Westenholz's work with Ralph Lauren led her to cross paths, and eventually become friends with, Markle. "Meghan had been a part of the London social scene for a while and had slotted into the high society set really easily," the source told E!. "And so when Harry told Violet he was having trouble finding someone, Violet said she might just have the perfect girl for him."
Markle already shared the rest of the story during the couple's BBC engagement interview back in November. "It was definitely a set-up. It was a blind date," the Suits star said at the time. "I didn't know much about him and so the only thing I had asked her when she said she wanted to set us up was, I had one question, I said 'Was he nice?'"
Can't wait to see all of this reenacted in the upcoming Lifetime movie.