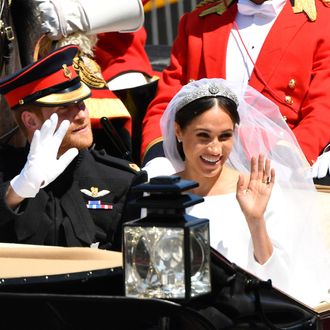 Prince Harry and Meghan Markle.
Photo: Leon Neal/Getty Images
While Prince Harry and Meghan Markle have changed their honeymoon plans multiple times, according to TMZ, the royal couple has finally landed on an unexpected spot: Canada.
TMZ reports that the Duke and Duchess of Sussex are heading to the royal-favorite Fairmont Jasper Park Lodge in Alberta, Canada, where they have plans to stay in the aptly named "Royal Retreat" cabin. Nearly 80 years ago, King George VI and Queen Elizabeth the Queen Mother stayed at the lodge, and in 2005, the current queen and Prince Philip took a trip of their own to the lodging.
For long, British tabloid and royal experts have speculated that the couple would honeymoon in Africa, where Prince Harry apparently "feels like he can be himself," so this news does come as a bit of a surprise. Given the lodge's history with other royals, as well as Meghan's love of the country, though, the TMZ report isn't totally unconvincing.
But now that media has caught word of the couple's reported plans, will Meghan Markle and Prince Harry keep them? Earlier this week, Royal expert Omid Scobie told Elle that if their honeymoon spot "leaks prior to travel, it compromises their safety on the trip, and they'll be advised by their protection team to change plans."
Hope we're not ruining the romantic getaway!