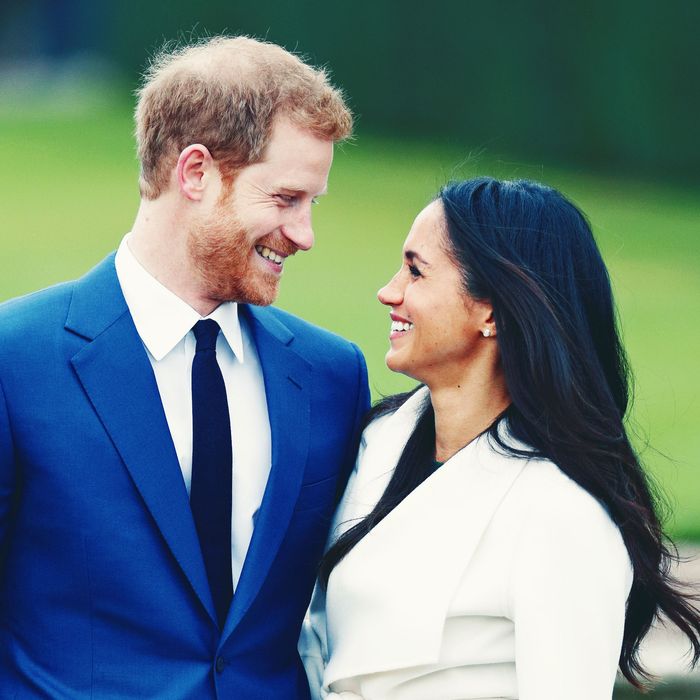 Prince Harry and Meghan Markle.
Photo: Max Mumby/Indigo/Getty Images
The nuptials between Suits queen Meghan Markle and ginger Prince Harry — dubbed by the Cut as Royal Wedding 2.0 — are rapidly approaching. So it's time to press your finest trousers and get your fanciest hat ready for the biggest event since the last royal wedding (remember? The one with Kate Middleton and Prince William? It happened hundreds of years ago?).
Here, we answer every question you might possibly have about the upcoming wedding.
First of all, when and where is this thing going down?
Save the date: the wedding between Markle and Prince Harry will be taking place on May 19, 2018, at St. George's Chapel at Windsor Castle in England. Luckily, that's a Saturday, so you don't have to take work off to celebrate. For those of you attending the wedding (or planning on sneaking in, no judgments), Google tells us the castle is just about an hour's drive outside of London. Convenient!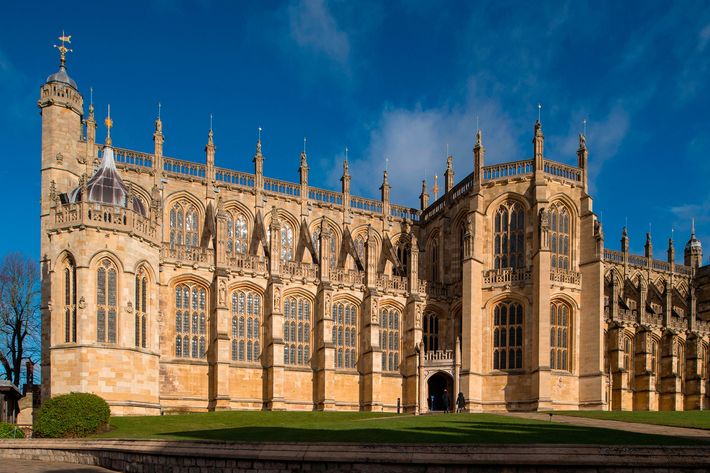 But what time is it all happening?
The service will start at noon (or 7 a.m. EST) at St. George's Chapel, but guests will start to arrive between 9:30 and 11 a.m. in the U.K. the day of the wedding. So, that's 4:30 and 6 a.m. EST. Kensington Palace revealed that the royal family will show up by 11:20 a.m. (6:20 a.m. EST), followed soon after by Prince Harry and Prince William. Then Meghan and her mom will head to the castle by car.
What happens after the vows?
Glad you asked! At 1 p.m., after they're officially married, Prince Harry and Meghan Markle will then take a carriage ride through Windsor Town (similar to the official carriage procession between Kate Middleton and Prince William after their wedding). The whole carriage ride will only take around 25 minutes.
How can I watch it?
You can watch the royal wedding on TV — CBS, NBC, ABC, PBS, and BBC America will all be airing it live. HBO is also airing the wedding with commentary from Molly Shannon and Will Ferrell at 7:30 a.m. EST. You can also stream it online via CBS, ABC, BBC America, and the New York Times's website. The wedding will also be streamed live from the royal family's Facebook page.
What about the reception?
Well, according to Kensington Palace, there will be a formal reception at St. George's Hall after the service for the couple and the guests from their congregation. Then — again, just like with Kate and William — the royal couple will host a private evening reception for their close friends and family (so, the people they'd invite to their wedding if they were normal, private civilians). That will happen at Frogmore House.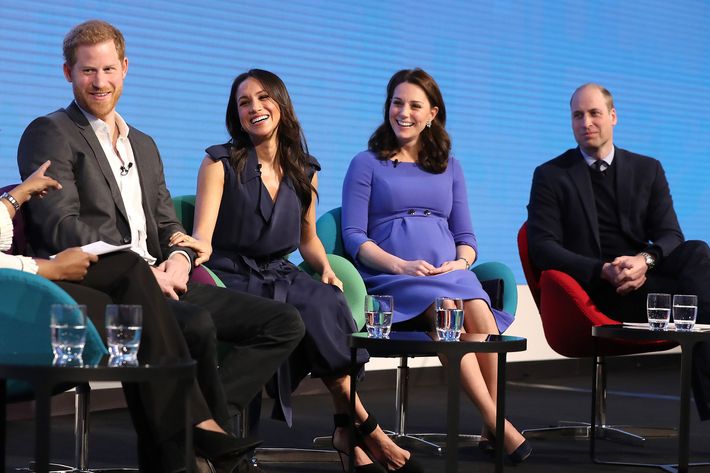 Who will be in the wedding party?
Prince William is set to be Prince Harry's best man, but it's been revealed that Meghan Markle won't have any adult bridesmaids or a maid of honor for the wedding. However, there will be a number of children serving as page boys and bridesmaids during the event. Prince George and Princess Charlotte will be participating, as well as Prince Harry's goddaughters, 3-year-old Florence van Cutsem and 2-year-old Zalie Warren. Meghan's goddaughters, 6-year-old Remi Litt and 7-year-old Rylan Litt, will also join along with 4-year-old Ivy Mulroney, the daughter of Markle's stylist/friend Jessica Mulroney. Mulroney's two 7-year-old sons, Brian and John, will be page boys along with Harry's godson Jasper Dyer.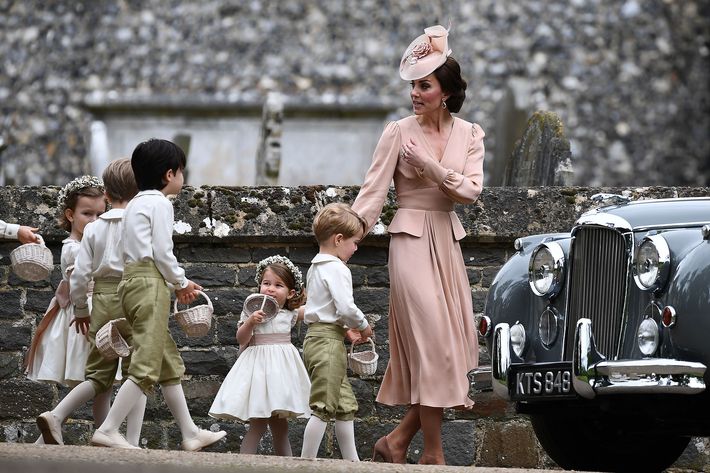 Okay, but more importantly, tell us about the dress.
If you think we'd know much about the dress before the big day itself, you're simply mad, my friend. But here's what we do know: Markle is said to have already picked out a designer, and her aforementioned BFF Mulroney (a stylist and wedding consultant who is based in Canada) helped her through the process. Recently, there's been speculation that the dress was designed by Ralph & Russo, but we aren't sure if that's entirely true. Also, it's been said that Meghan will actually have two dresses — including one for the reception. Beside that, Meghan's mom Doria Ragland was photographed arriving in London with a Burberry dress bag, if that means anything.
Well, who will even be at the wedding?
The guest list hasn't been released, but we think it's safe to bet that Kate Middleton and Prince William will be there. We know for sure that Trump hasn't been invited yet (and we wouldn't be surprised if he didn't get an invite), the U.K. government reportedly doesn't want the couple to invite the Obamas, and, oh yeah, looks like some ghosts will be there, which is cool. The cast of Suits will also reportedly be there. For a more complete list, check out this page.
And what about Markle's family?
Where do I even start with this family? Please read my explainer, since I cannot delve into all their drama again. But at the moment, it looks like Meghan's mom will be attending the wedding. The rest … oh boy.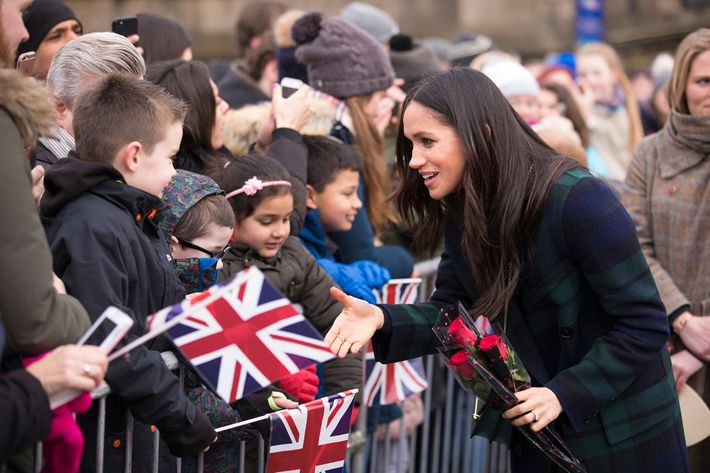 Where are Markle and Prince Harry going on their honeymoon?
We haven't received official confirmation about the honeymoon location quite yet, but the Daily Mail reports the pair will be staying at a luxury lodge in Namibia, Africa, after their wedding.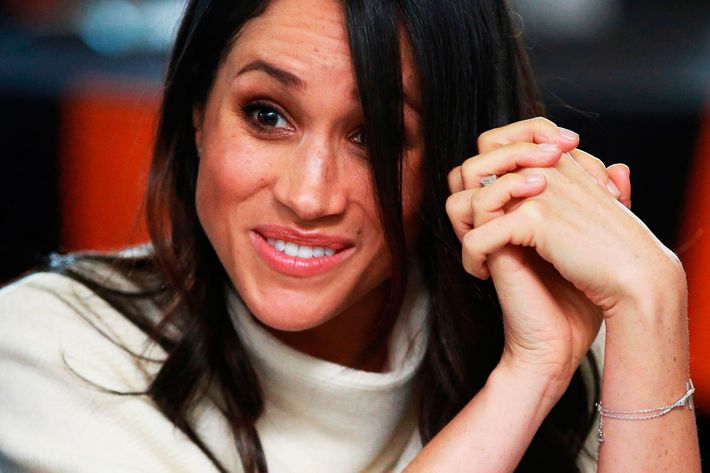 Have the invitations gone out yet?
Yes! Kensington Palace revealed on March 22 that 600 people were sent fairly boring and formal royal wedding invitations (see the picture below) to the service and lunchtime reception. Meanwhile, 200 VIPS were also invited to a private reception at the Frogmore House.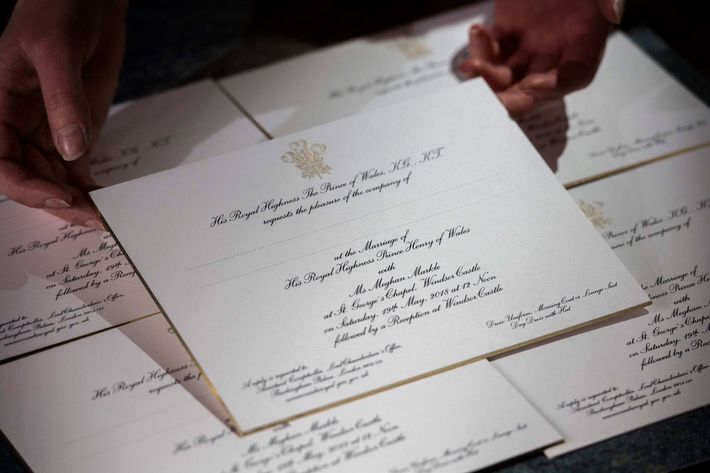 How have Meghan and Prince Harry been preparing for the wedding?
It sure sounds like Prince Harry is #SheddingForTheWedding, as he's reportedly changed his diet, quit smoking, stopped drinking as much, and has been hitting up the gym. Apparently he's already lost 10 lbs! Meghan, meanwhile, has been going through some rigorous royal training — including recently being fake kidnaped and subjected to live gunfire as part of a security training program. Romantic!
What else should we know about the nuptials?
Well, Markle was baptized into the Church of England by Archbishop of Canterbury Justin Welby at St. James's Palace Chapel Royal (so that she can be married in a Church of England ceremony). Queen Elizabeth unfortunately missed the ceremony, but the queen has apparently formally given the union her official blessing and Markle has been spotted wearing a new diamond cross bracelet. The couple has also already picked out their wedding cake: trendy lemon elderflower cake from London pastry chef Claire Ptak. And it turns out a lot of people will be eating out of bowls at the reception.
Some additional reading material about the wedding:
– A Brief History of Royal Wedding Scandals
– Damn, the Royal Engagement Photos Look Good
– All the Meghan Markle Family Drama, Explained
– How Do Royals Spend Their Wedding Nights?
– Everything to Know About Meghan Markle's Royal Wedding Dress
– What Are the Official Rules for Royal Wedding Guests?
– How to Host the Ultimate Royal Wedding Viewing Party
And check out some more here.
This post has been updated throughout.