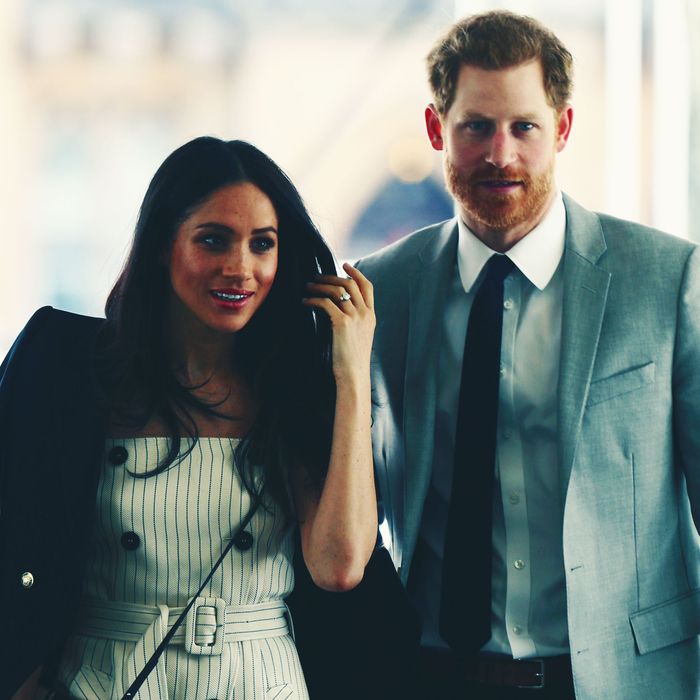 Meghan Markle and Prince Harry.
Photo: Yui Mok - WPA Pool/Getty Images
If you're one of the lucky few invited to Meghan Markle and Prince Harry's May 19 royal wedding and hoping to enjoy an elaborate five-course meal after the ceremony, well, I've got some bad news for you. It turns out the reception will be more trendy than fancy, and you basically have no choice but to eat out of a bowl.
Over the weekend, Kensington Palace gave the world an inside look at the kitchens of Windsor Castle, as a team of chefs prepare for the upcoming wedding. Head chef Mark Flanagan said, "All the staff are delighted to be involved on the day. We've even had old staff contacting us if we need some extra support."
Meghan and Prince Harry apparently finalized the menu in March after a series of tastings, and the dishes will include the "freshest produce available." Flanagan continued, "Luckily the seasons have just fallen perfectly and that's become the main focus in the decision making of the menus."
So, what exactly will the menu of the two-and-a-half-hour lunch entail? A ton of seasonal bowls and canapés, basically so that the guests can eat the food while standing. The specifics of the menu haven't officially been released, but it sounds like there will be a lot of asparagus, tomatoes, and peas, and a ton of desserts like chocolate truffles.
Given all the graffiti that's been popping up in Windsor, we also anticipate the meal will include a ton of forks.