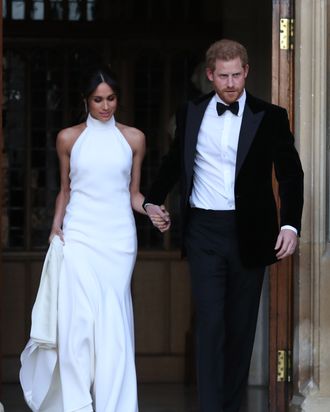 Meghan Markle and Prince Harry en route to their wedding reception.
Photo: WPA Pool/Getty Images
Meghan Markle and Prince Harry were (finally) married in a very royal wedding ceremony on Saturday, which was attended by 600 invited guests, a ton of members of the public, and, oh, just an estimated 1.9 billion people watching worldwide.
Afterward, the newly married Duke and Duchess of Sussex celebrated their nuptials away from the cameras during a private lunch for the invited ceremony guests. Then, there was another private evening reception for 200 close friends and family, hosted by Prince Charles at Frogmore House on the Windsor estate. Thankfully for those of us who (for some reason) were not on the guest list, reports about what went down at the exclusive affairs have emerged.
During the lunch, Prince Harry reportedly gushed about Meghan in a speech.
After the ceremony, guests of the fancy nuptials headed to a lunch reception. There, Prince Harry reported gave an emotional speech, during which he professed his love and admiration for his new wife. According to the Sun, Prince Harry told Meghan (and the room) that they make "great team." He added that she "navigated everything with such grace," and then said, "I can't wait to spend the rest of my life with you." Oh, we know.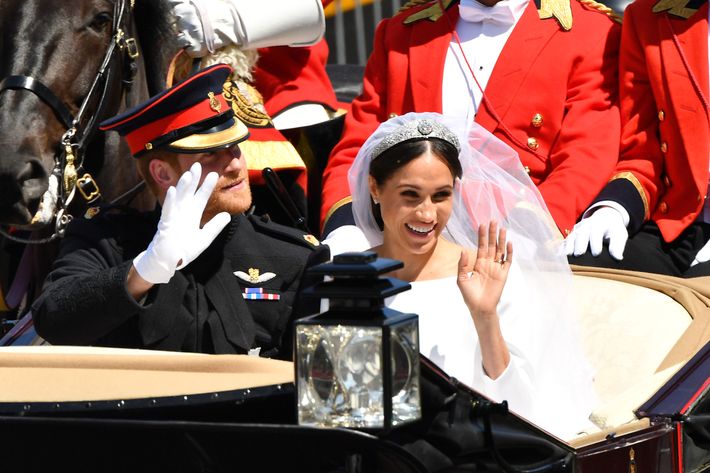 Prince Charles also gave a nice speech.
Prince Charles, who escorted his new daughter-in-law part of the way down the aisle on Saturday, also reportedly gave a nice speech at the afternoon reception. The Mirror notes that Prince Charles spoke of the man his "darling old Harry" had grown into, but he also cracked a joke about changing Prince Harry's diapers as a kid. One guest told the Daily Mail, "Prince Charles made a really gracious speech, it was amazingly endearing. He's got a wonderfully dry sense of humor."
Guests got to swap their heels for slippers.
Pretty Little Liars star Troian Bellisario, who is married to Meghan's Suits onscreen husband Patrick J. Adams, showed on Instagram that guests at the afternoon reception were given very fancy slippers to change into if their heels were hurting them. How thoughtful.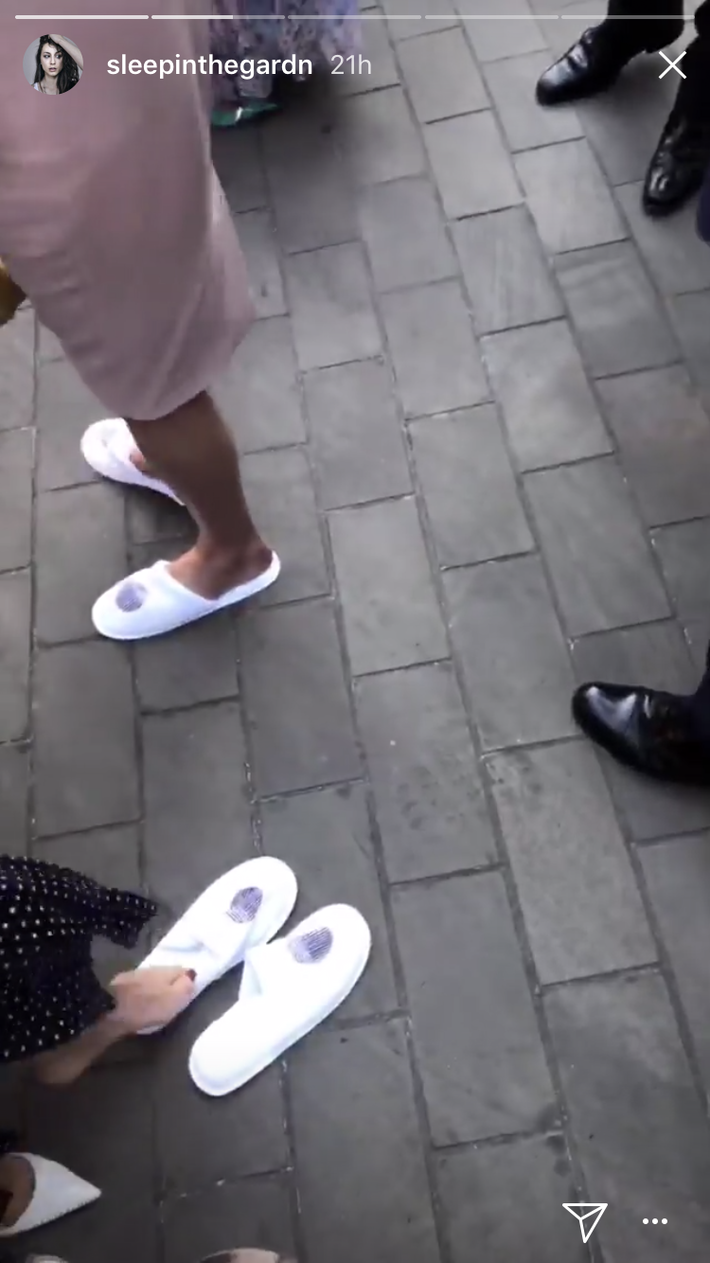 Elton John Performed.
He apparently sang "Your Song" and "Tiny Dancer," which is nice, as well as "Circle of Life," which is from The Lion King.
And there was cake.
The lemon elderflower cake Meghan and Prince Harry selected looked amazing. Baker Claire Ptak shared a pic of the cake on social media.
Then, guests (and also Meghan and Prince Harry) changed before the evening reception.
We've already seen (and memorized) pictures of Meghan and Prince Harry in their evening reception attire (for reference, look at the pic above). Meghan swapped her Clare Waight Keller for Givenchy ceremony gown for a minimal Stella McCartney dress for the party, while Prince Harry donned a fancy tuxedo. The pair drove off to Frogmore House in a Jaguar convertible.
But the happy couple weren't the only reception attendees to change into different attire. Luckily, some of the VIP guests (and the people working with them) posted their outfit changes on social media.
Serena Williams, one of the greatest athletes of all time, revealed that she changed into a Valentino gown — with sneakers underneath for maximum comfort (smart):
Priyanka Chopra changed into a Dior gown:
Jessica Mulroney — Meghan's best friend, a Canadian stylist, the (secret) wedding planner, and the mother of two of the royal wedding pageboys and an adorable bridesmaid — also changed into something fancy (and glittery):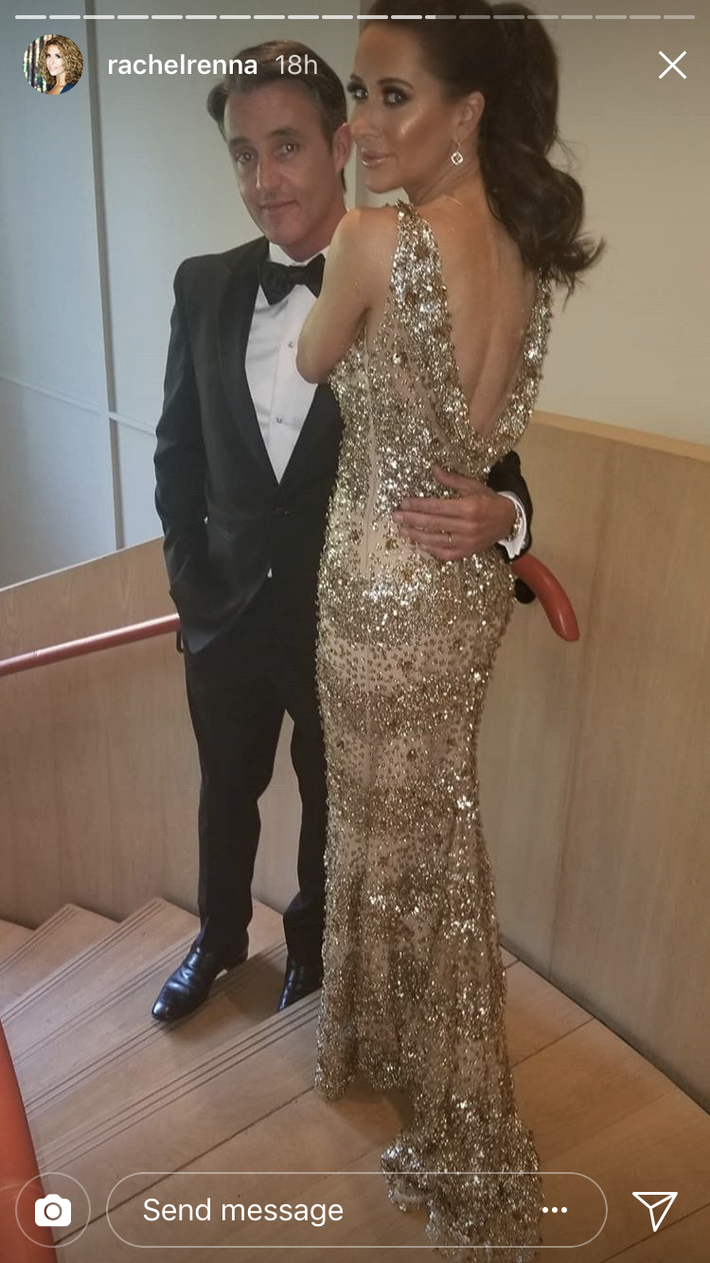 There was apparently a fancy separate invitation for the evening event.
Argentinian polo player Nacho Figueras showed off the separate evening invitation on Instagram.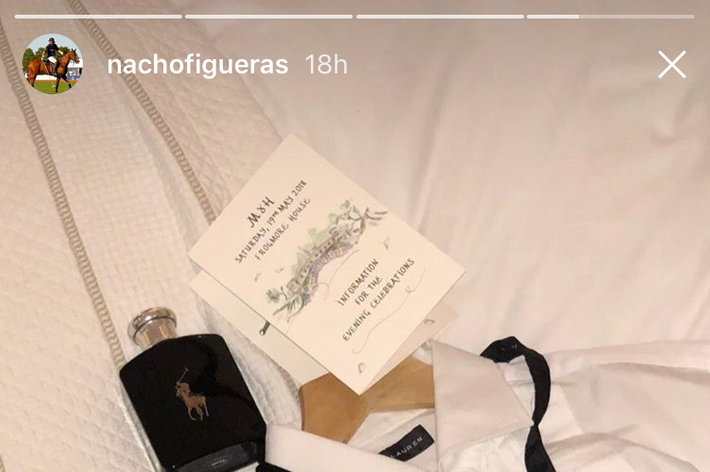 The evening reception was more of a party.
The private reception at Frogmore House was much more of a party than the more formal lunch reception at Windsor Castle following the ceremony. We had already heard that Prince Harry reportedly wanted a "carnival and festival-themed" after-party reminiscent of his favorite London night clubs, complete with vodka-filled ice luges, Wagyu beef, a steel band, and frozen tropical drinks. And according to a report by Daily Mail, it sounds like he had just that.
The after-party at Frogmore apparently featured DJ Sam Totolee, who also played at Pippa Middleton's wedding last May (during which he apparently played "I Took a Pill In Ibiza). Meghan and Prince Harry reportedly had their first dance to Whitney Houston's "I Wanna Dance With Somebody." Prince William is said to have given a "naughty" best man speech, Meghan gave a speech thanking the royal family for welcoming her, and there was some "unknown" gift from James Corden (who is said to have been the host and entertainer for the evening).
There was also an organic sit down dinner that apparently lasted from 7:30 to 10 p.m. And the event did, in fact, have a specialty cocktail (at, least including to a Daily Mail source): a drink called "When Harry Met Meghan," made with ginger and rum.
And eventually, there were fireworks.
Of course! The fireworks apparently went down at 11 p.m.
Then there was apparently another after-party in London.
The Daily Mail reports guests from the 200-person reception in Windsor later returned to London to continue the celebration at the exclusive Chiltern Firehouse restaurant. There was also reportedly a different party in a "soundproofed private home" in Chelsea as well.