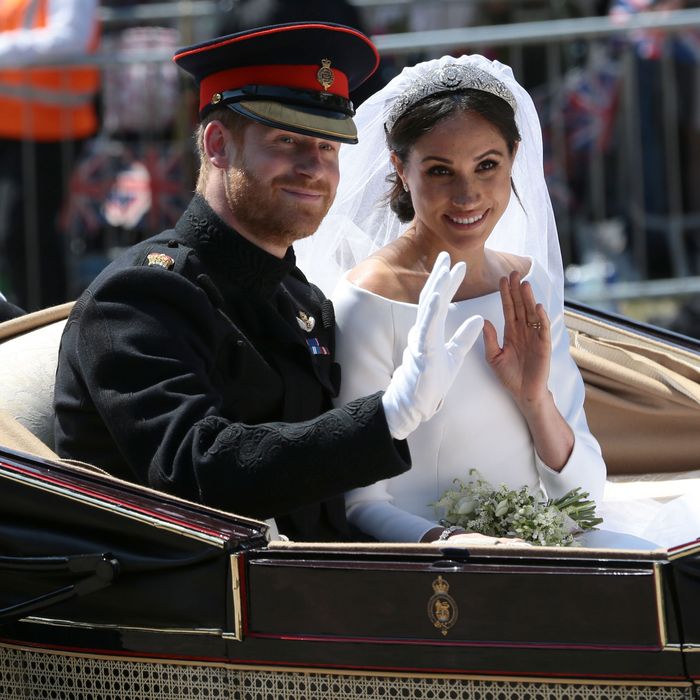 Meghan Markle and Prince Harry.
Photo: Aaron Chown - WPA Pool/Getty Images
Meghan Markle and Prince Harry only got married on Saturday, but they're already quite busy. By that I mean, they stopped by a garden party and are now reportedly planning on visiting her dad in Mexico.
Fresh off the heels of their very royal wedding (and reception after-party that included beer pong and George Clooney's tequila), Meghan and Prince Harry are apparently "keen" to visit her dad Thomas Markle Sr., who lives in Mexico. Royal correspondent Katie Nicholl told Entertainment Tonight that the pair hopes to make the trip "sooner than later."
Thomas recently (ahem, last week) stirred up controversy after it was revealed that he staged some truly amazing photo ops for the paparazzi — including looking at a slideshow of Meghan and Prince Harry's sweetest moments at an internet cafe. The scandal led to a subsequent will-he-or-won't-he saga in which Thomas told TMZ he wouldn't be attending his daughter's wedding, and then said he might, and then said he wouldn't again, and then he had heart surgery.
Nicholl told ET that not only does Meghan want to visit her recovering father, but Prince Harry would also like to meet him.
Per ET:
"I hear one of the things they want to do sooner than later — and now that they're married — is to go and see Thomas Markle, who is recovering from a heart operation," Nicholl says. "We don't know when this trip might happen. … I'm hearing from people close to Meghan and Harry that they're very keen to do it."
Thomas has already spoken out about his daughter's marriage — to, would you believe it, TMZ. He told the gossip publication that the ceremony was "beautiful." He also added, "Now I pray that Harry and Meghan can go on a nice honeymoon and rest and relax, and all of my relatives will just shut up about everything."